Near the end of How to Write an Autobiographical Novel, Alexander Chee writes: "The story of your life, described, will not describe how you came to think about your life or yourself, nor describe any of what you learned." This is not a cynical or pessimistic remark. Chee's first book of nonfiction is a wonderfully sublime telling of how much we do not allow ourselves to know, as well as a profound accounting of what writing can accomplish today, in these times, and in this historical moment.
These essays cover a wide swath of territory: Chee writes about a summer spent in Mexico as an exchange student; what it feels like to be out in public in drag; his affinity for tarot readings; his love of rose gardens; attending the Iowa Writer's Workshop; HIV/AIDS organizing in the 1980s and 1990s; living in New York City, and what it takes to be and become a writer. These topics might seem disconnected or too abstract to hold the reader's attention, but Chee is able to make even extended meditations on the origins of the word "rosary" in 13th-century France feel palpably part of modern life.
A running thread throughout these essays is the difficulty of remembrance: the lies our bodies tell us in order for us to be able to survive, the way memory can deceive as well as reveal, the way history can be thought of as one long iteration of loss. In one of the most moving essays I have ever read, Chee recounts his part in HIV/AIDS organizing in the late 1980s in San Francisco. The essay, "After Peter," traces this time in Chee's life by recounting the life and death of a man Chee loved named Peter. The story Chee tells of Peter's life and how it intersects with his reveals the ongoing catastrophe that was the HIV/AIDS epidemic, a catastrophe caused not by the virus itself but primarily by the fact that almost no one cared that gay men were dying, including the state. Chee is keenly aware of his place in this narrative:
Why am I telling this story? I am, as I've said, a minor character, out of place in this narrative, but the major characters of all these stories from the first ten years of the epidemic have left. The men I wanted to follow into the future are dead. Finding them had made me want to live, and I did. I do. I feel I owe them my survival. The world is not fixed, and the healing is still just past my imagining, though perhaps it is closer than it was. For now, the minor characters are left to introduce themselves, and take the story forward.
This essay expands our ability to think about the intertwined nature of historical loss, and how such loss continues to reverberate in the now even as we are taught to think of the epidemic as solely historical (as if we do not carry this history with us in every breathing moment).
Chee is an inordinately gifted writer. His sentences are so supple as to almost deceive one into thinking they are simple. But they are not. He has an incredible capacity to say very much by saying very little. Writing about his first time being out in public in drag, Chee describes the power of drag like this: "This beauty I find when I put on drag, then: it is made up of these talismans of power, a balancing act of the self-hatreds for at least two cultures, an act I've engaged in my whole life, here on the fulcrum I make of my face." This is a sentence that encapsulates so much about identity, racialization, queerness, drag, gender, and bodies, and yet it contains not a single word of jargon or obscurantism. It is an extraordinary feat to write so plainly about so many twisted, untieable knots of identity and history.
The essays gathered in this collection are not fiction, but at times they read very much as if someone were describing a life that is not their own. Chee explores what stories can do by looking at his life and constructing his own biographical narrative, a narrative that is often shaped by elisions that say as much by what they leave out as what is told. Chee does not write didactically, but almost pastorally. There is an absent centre at the heart of this book that informs much of its telling, one that I will not reveal here. But part of the pleasure of reading these essays is Chee's inimitable ability to move through and within the intertwined histories of the political and the personal, and how these histories inform every life on this planet.
How to Write an Autobiographical Novel, despite the title, thankfully is not a how-to guide for how to write an autobiographical novel. It is a better collection for that. In writing about his life as if it were not his own, as if he were a character in an "autobiographical novel," Chee does not tell so much as show: by revealing the stories that shaped him, both as a queer Asian-American man and as a writer, we get to see how a fictional non-fictional account of one's life can take shape.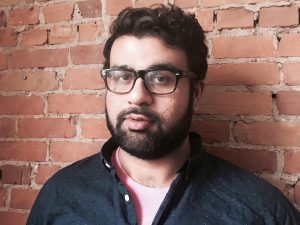 Asam Ahmad is a writer living in Tkaronto. His first collection of essays is forthcoming from Between the Lines Press.