Interview by Leah Horlick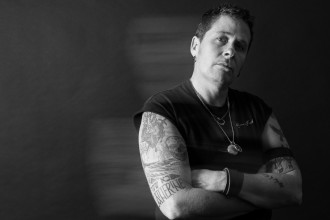 A native of Los Angeles, SD Holman is a photo-based artist and Artistic Director of The Queer Arts Festival, an artist-run three-week, multidisciplinary arts festival in Vancouver, Canada. Recipient of the 2014 YWCA Women of Distinction Award in Arts and Culture, one of Canada's most prestigious awards, Holman has exhibited internationally at venues including the Advocate Gallery (Los Angeles), the Soady-Campbell Gallery (New York), the San Francisco Public Library, The Helen Pitt International Gallery, Charles H. Scott, Exposure, Gallery Gachet, the Roundhouse, Vancouver East Cultural Centre, Artropolis, and Fotobase Galleries (Vancouver). Holman's project BUTCH: Not like the other girls is currently touring North America and has been published by Shooting Gallery Publications. Other work appears in the books Culture and Education, Wadham, Pudsey & Boyd, (Pearson Education Australia: 2007; 2nd ed. 2009); Femme/Butch: New Considerations of the Way We Want to Go, Gibson & Meem (Routledge: 2002); Fusion (Link publications: 2002); The Mammoth Book of Erotic Photography, Jakubowski & Jaye Lewis (Robinson Publishing: 2001).
Your photographs are now in book form, in Butch: Not Like the Other Girls, after having begun as a public exhibition in Vancouver bus shelters and will continue to be shown in galleries across North America. (Congratulations!) Now that your book has been launched, I'm curious to know — has the project changed through the different mediums, from bus shelters to galleries to books?
Yes, it is different in different mediums — these three mediums are a great combination. In a gallery I get to be able to make the beautiful art object, satisfying for me, but a lot of people don't get to see the project in a gallery. Who goes to art shows? So that's a wonderful thing to be able to get the project into the bus shelters as public art and speak to another audience, then a catalog again gets to more audiences, and then you have an inexpensive object folks can take with them, so it makes the whole project more accessible to people. In terms of the change through the mediums — you have to take different things into account. In the bus shelters, there are words on the poster; there aren't words in the gallery. And there are different words again in the book — you have to take into account the aesthetic of each medium. And then the bus shelter posters ended up back in a gallery in East Hampton, which was fun but I was not sure it would work as the words are the same on all posters except one, but it worked, I think.
Tell me about the title of your project. Who are the "other girls?"
You know I'm not labeling the butch community, right? I'm not saying they are girls who are doing it wrong. No, it's how the straight world labels the community, revealed as ridiculous by the context created by the collaborators and myself, laughing at the label same as in my previous work G.I.D. and Stealing Masculinity.) It's an in-joke for us.
Your book includes over 100 photographs, and the show has about 40. How did you connect with the folks who are included in your project? Are they mostly Vancouver-based community members and friends, or did you have other ways of connecting?
A lot of them are people that I know. Some of them are my friends. We did a call-out on social media for folks, and I went to a Butch Voices conference in Portland, so I was able to get people from a lot of different places.
In your photographs, I'm really struck by the wide range of ages and life stages you've depicted. Separation by generation is often talked about as a problem in queer communities. Do you have thoughts on how art can respond to this gap across generations?
No, not really. Youth is wasted on the young, some youth think they have invented everything and elders may feel no one cares or respects them — everyone feels a disconnection. So keeping engaged on both ends, meaning (youth) respect and find out about your history and (elders) be open to new ideas. I don't know that it is art, or more just life. Artists are maybe — or can be — more engaged this way I suppose, because it is our work to stay engaged.
Also, a big part of my community is the BDSM community — and we have lots of elders and lots of really young folks. So there is a huge range of folks that engage with each other. So perhaps I don't feel the age gap as much.
What kind of feedback have you received on your project? Does anything in particular stand out? How do your audiences interact with your work?
Many things stand out. I'm surprised and pleased with how well it's been received. Queers are hungry to see themselves portrayed, and particularly butches and lovers of butches. At the Easthampton show — which is a town of 10,000 people — there were 600 people at the opening. I consider a good art opening to be 200. The Première opening at The Cultch in Vancouver was the largest art opening they have had in their 35 year history. The bus shelter posters went completely viral on Facebook. I was getting messages from folks in Berlin who would like to see the show, and Amsterdam, and from many other places. At the book launch, somebody whose partner is a bus driver told me that when they went back to the depot, that's all everyone was talking about, the Butch bus shelters. The mother of one the models, also a bus driver, was like, "My daughter's in that project," and became the toast of the depot. How incredible is that? It's been really good. I don't think that masculine women have been told enough that they're handsome or beautiful — and here's this project that has just gone and shown people that. So communities are super excited about this project, but it's hard to convince real galleries to take it on, and I had to create my own publishing company because no one would publish it.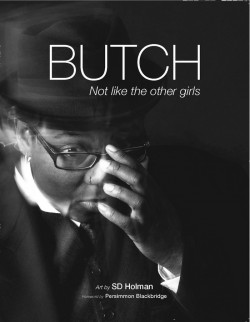 In your Facebook event for your book launch, you describe butch as a "general site of struggle."  Are there any other particular struggles that you see as closely intersecting with butchness?
All of our resistance and struggles are closely intersecting — in the words of the late great Maya Angelou, "None of us are free until all of us are free" — this is just a particular piece. We live in a bit of a false paradise in Canada where we have so many rights and are much luckier than in many parts of the world (death penalty, I think it's 10 country's right now, and tons of countries where it's still illegal), but homophobia and gender panic are still killing us right here. I can rattle off many statistics that a lot of us are aware of, like queer youth are 7 times more likely to commit suicide, etc. When I walk out my door in the straight world I am reviled; I am told I'm a failed woman. And I am not; I am handsome and hot.
What are your hopes for future representations of gender identities in queer communities?
Every kind of representation that anyone can think of please — and remember just because you are not included in a particular thing, it does not mean someone is against you — just because you are for something does not mean you are against something else. Let's recognize our allies and our common struggles and not be so judgmental. There can be representations of all kinds, none of them wrong, just different and sometimes similar.
Keep making art. I have an Andy Warhol quote on the front page of my website: "Don't think about making art, just get it done. Let everyone else decide if it's good or bad, whether they love it or hate it. While they are deciding, make even more art." Art is an important site of resistance and a key to revolution. The world bombards us with negative messages. Just keep doing it. We as humans are always taking great leaps forward and then backward. Resistance is important not because it changes anything but because it keeps us human. Make more art! Of all kinds.
Do you have any inspirations or influences for your work?
Many. My wife Catherine most of all. All the fabulous queers I meet and know, and all the queer artists throughout history are my inspirations and influences, from Michel Angelo to Andy Warhol, Oscar Wilde to Paul Wong, Claude Cahun to Catherine Opie, and of course the Guerrilla Girls, Gertrude Stein, and all the artists we have shown at the Queer Arts Festival.
What's next for this project?
I'd love it to get into more galleries and more public art showings in bus shelters, and it's still hard with the queer thing; I get relegated into "Identity Art." I have written a piece about that called Towards a repositioning of queer art, and it's why I do the Queer Arts Festival. It's hard to get shows like this any kind of recognition from real galleries. To convince the art world that this is relevant is difficult. The feedback from our communities is fantastic, but it costs so much to take it places — I'm doing it mostly on my dime, and the Kickstarter was a drop in the bucket in terms of getting it places.
So far, next is:
•Sep 18 – Dec San Francisco | Austin Gallery, 799 Castro | Exhibition — Opening Reception Thur Sep 18 (Folsom Weekend)
•Oct 2 – Oct 24: Boston area | Wellesley College | Exhibition – Opening Reception Thur Oct 2 Wellesley College LGBT Programs & Services Office
•Oct 30 – Dec 18: Toronto | Canadian Lesbian & Gay Archives (CLGA) Exhibition — Opening Reception Thur Oct 30
I'm working on New York, and anywhere any of your readers want it to go. You find me the space where it is wanted; I will figure out how it get it there.
Where can people find the project and your work?    
I'm going to send it to all the colleges, libraries and universities I can. They can find it at Little Sister's Vancouver, at Elliot Bay Books in Seattle, Other Words Women's Books, Portland, Books Inc. Castro, San Francisco, Skylight Books in LA. So far.
People can also find the book on Etsy, and more places to come.
Leah Horlick is a poet and queer organizer living on Unceded Coast Salish Territory, in Vancouver, BC.