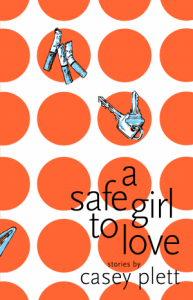 Casey Plett, A Safe Girl to Love
(Topside Press, 2014.) Paperback, 216 pp., $16.95.
Reviewed by Amber Dawn
Let's hear it for being at the right place at the right time.
In early June, I found myself at the right place, which was Blue Stockings Books—Manhattan's Lower Eastside stronghold indie bookstore—and the right time was the launch of A Safe Girl to Love, a debut fiction collection by Casey Plett. On my way down 6th Avenue, I got caught in a torrent of warm rain. I considered taking cover in a frozen yoghurt bar, but I'm a Vancouverite and Casey Plett is a Winnipegger and Canadian authors don't wait for fair weather.
In the balmy bookstore, Plett read from "Not Bleak," one of eleven short stories that feature transgender women as narrators and central characters. "Not Bleak" is a homecoming story with a familiar premise: urbanized character returns to rural hometown to become acutely aware of the tensions between their past and present notions of self, between belonging and alienation. Plett wonderfully employs the pastoral beauty that frequents such stories, with images of simmering canola fields and long, dirt driveways. The call home is equally poetic, coming in the form of a sick Mennonite grandfather. However, any homespun wistfulness is withheld from returnee character Zeke, whose homecoming means abandoning her female identity and re-inhabiting her familial role as a "good Christian boy." Zeke's action of re-becoming the "boy" her grandfather knows and loves adds remarkable dimension to the proverbial homecoming story. Plett further shows her gift for point-of-view by having this story told not by Zeke, but through the perspective Carla, a friend who agrees to a very big favour:
            So I'm going to be asking you a favor, said Zeke […] And I just want to make clear. It's totally okay if you don't want to do it […] I'll be asking a lot here […] You remember my grandpa … I'm going to see him in a few weeks. And I won't be going as a girl, unfortunately, but. … I would really rather not travel alone […] I was wondering if perhaps you would come along with me, and, well, pretend to be my girlfriend.

[…] Honey, I said—and I enunciated clear hear—you don't want me … the blind could read me [as trans].

Well Carla, she said. You have to understand. They don't even know what [transitioning] is ."
The themes of belonging and alienation for Zeke and Carla's homecoming resonate highly, amplified by the negotiation of how their gender is being perceived in each and every new scene. This makes for a fresh, tactfully complex read. It also is emblematic of a new movement in literature—trans literature—that Plett, along with her publisher Topside Press, is advancing.
Trans lit is an artist-applied label. What qualifies as or hallmarks trans lit is discussed by the artists themselves as the movement evolves. Many literary movements are founded in just this artist-led way; nonetheless, trans lit is a breakthrough considering how other mediums—film and television in particular—have poached, then bargain-merchandised trans stories and identities for popular entertainment. In a recent interview with Canadian Women in the Literary Arts, Plett spoke to the oft overlooked for value of authenticity: "To want to read trans women writing fiction and poetry, you have to actually want to hear what's on our minds."
For many readers, the pursuit of a credible voice will be enough reason to pick up A Safe Girl To Love. Other readers may wisely want in on this burgeoning literary movement. Others still may simply want to see traditional narratives—like the homecoming, the coming-of-age and bildungsroman, the love story, the satire—blown open and rebuilt through a sharp trans perspective. Casey Plett has ensured that any motivations for reading her debut collection are rewarded. And you don't even have to walk through a New York rainstorm to get a copy.
Amber Dawn is a writer from Vancouver, Canada. Author of the memoir How Poetry Saved My Life (2013) and the Lambda Award-winning novel Sub Rosa (2010), and editor of the anthologies Fist of the Spider Women: Fear and Queer Desire (2009) and With A Rough Tongue (2005).