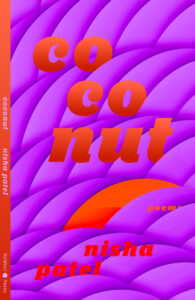 Reviewed by Namitha Rathinappillai
Nisha Patel, Coconut (NeWest Press, 2021), 108 pp., $19.95.
Nisha Patel's poetry debut, Coconut, reflects on the multifaceted experiences of queerness, race, womanhood, fatphobia, and familial relationships. The collection contains moments of both introspection and extrospection—it analyzes the author's identities and relationships, but also takes a critical look at the ways society impacts her experience of these identities. Many of the poems in Coconut address the unspoken or, rather, the intentionally silenced.  Consider these lines from the book's first poem, "fat girl tweets about pussy:"
fat girl has seen it in the mirror and not just the internet
knows its name and what country it comes from
which is to say that it belongs to nothing but the dirt
from the soaked brown earth
from the clenching of stomach and grin
of a good woman.
This is a poem about being fat that is not about being shamed or minimized or hidden—it is a celebration of ownership and autonomy. It acts as the perfect opening to what follows in the rest of the book. Patel rarely speaks about any one identity in a silo. Instead, there is an intersectional understanding of her identities, and the reader gets to experience a more nuanced and rich understanding of the topics she identifies and depicts in her writing.  In her poem "I am so eloquent," Patel writes:
even when my skin betrays me, I
can still fool the hunter into thinking I am some sort of
wildflower, the kind that he will pick for the girl he will
actually marry, and I will stay in my place, grateful that
he spared me.
The title, even without reading the rest of the poem, elicits a response of solidarity from any racialized reader. This comment is often used as a microaggression against racialized folks, but Patel using it as the title of her poem feels like an act of rewriting the narrative.
Interspersed throughout the collection is a series of poems as portraits: a portrait of the artist as a tampon, as acne, as a sari, and the portrait of the artist in her mother's mouth. These poems act as tableaus throughout the book. They force the reader to take a breath and observe the works in this gallery. We see the author from several perspectives and understand her to be multifaceted. From the title of the book, Coconut, we can infer that this is a collection about reclamation. For Patel, an Indo-Canadian, to use a slur aimed at South Asian folks regarding the disregard for one's own culture and assimilation to whiteness as the title of her debut book is an act of resistance.
Many of the poems in Coconut can be placed in a particular time in history, as in the poems "when mark connolly asks me why the revolution has to be violent" or "dear jason kenney." Not only do these poems act as points in the timeline of the author's life, they are also deeply unapologetic in their directness towards the subject. A great example of this is "nine things I want to say to elizabeth gilbert," the subject of the title being the author of Eat, Pray, Love. In the poem, Patel says to Gilbert: "must be nice that you saw a country with over a billion people / and still only thought about yourself." I was lucky enough to hear this poem performed on a national stage at the finals of the Canadian Festival of Spoken Word, and the weight it carries has not shed a pound on the page.
These moments when Patel speaks directly to actors of oppression feel like a revolution. There is no room for politeness or courtesy. It is a direct questioning that requires a direct answer. For the reader, it inspires hope that we may replicate this dauntlessness.
Patel gives us complexity in her poetry. We do not leave with answers but with more questions. What would it mean to be so authentically ourselves, the way Patel is? She encourages the reader to be critical, and to use these poems as a map for doing so. There may be no manual for being a woman, for being a person of colour, for being fat, or for being queer, but I believe this is as close as I will get to having one.
…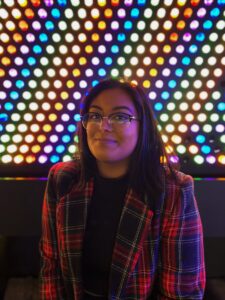 Namitha Rathinappillai (she/they) is a Tamil-Canadian spoken word poet, artist, and writer who has entered the poetry community in 2017. She is based in Ottawa, and is the first female and youngest director of Ottawa's Urban Legends Poetry Collective (ULPC). They are a two-time Canadian Festival of Spoken Word (CFSW) team member with ULPC, and they published their first chapbook titled Dirty Laundry with Battleaxe Press in November of 2018. In 2019, they won the RBC Youth Ottawa Spirit of the Capital Award for Arts and Culture. You can find more at namitharathinappillai.com.