Interview by Cara Nelissen
In connection with this year's Victoria Festival of Authors taking place September 29 to October 3, Plenitude reviews editor Cara Nelissen interviews VFA panelist Brandi Bird about their writing, the prairie landscape, and this year's festival. maskotēw-askiy: a Celebration of Prairie Poetics takes place Sunday, October 3, and Brandi will be participating in the panel alongside Samantha Martin-Bird and Emily Riddle, with Sam Nock as curator and moderator.
Brandi Bird is a Two-Spirit Saulteaux, Cree and Metis writer/editor from Treaty 1 territory currently living and learning on Squamish, Tsleil-Waututh & Musqueam land. Their work has been published in The Alaska Quarterly Review, The Puritan, Poetry is Dead, Room Magazine, Brick Magazine, PRISM international, Arc, and The Fiddlehead.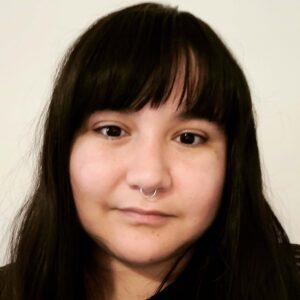 Who or what do you consider your work to be in conversation with?
My work is in conversation with love. Love for my family, in all its complications, love for my friends and chosen kin, love for the land, my respect for it. I believe the easiest way to connect to people is through love, through sharing the love I've had in my life even if it's come through hard times.
Many of your poems have very powerful endings, ending on an evocative image or a surprising turn of phrase. How do you arrive at the ending of a poem?
Endings are the hardest part! They surprise me too. A mentor of mine once told me to delete the last line of a poem and see how the poem lands because I have a tendency to wrap my poems up neatly. I don't think that's the goal of poems though, to be neat, to be tidy in their endings. I want my poetry to be like life, less controlled. I don't know if I've succeeded, especially in my older work, but I'm trying and growing every day.
Much of your work features elements of the prairie landscape. How would you describe your work's relationship to place?
The prairies are my home even though I was driven out of them by the systems of colonialism that govern our lives. I haven't lived on them since I was twenty years old and fresh out of foster care. But it's my territory, the place my family has lived for thousands of years, and I feel that very deeply. I connect with my homelands through my work, especially since I can't do it in person. I write for people who have complicated relationships with their territories, trauma that almost feels physical. To be severed from my home is to be severed from a part of myself and I'm always trying to rebuild.
What are you currently working on?
I'm working on a full-length manuscript of poetry. It's currently untitled because titles are my least favourite part of poetry but it's coming along. It's almost entirely new work, almost nothing from my chapbook which I wrote when I was just starting to write poems. I'm very excited about it! I'm also working on an essay about teen girls and the romanticization of their suffering through art which I don't believe is a bad thing at all.
What is something you have read recently that changed the way you look at the world? What is something you have read that changed the way you look at your own work?
So many books! Ada Limón's collection of poems called The Carrying has changed the way I look at the world. Her work is so tender and yet it isn't precious at all which is exactly the way I want to live my life. Her poem called "A Name" cracked my head open the first time I read it. The longing that radiates from it really connected with something primal and lovely inside of me. Selina Boan's book Undoing Hours also really landed with me. The language is so precise and strange when she talks about time and the love we have for the world. Molly Cross-Blanchard's book Exhibitionist also made me a braver writer. Her honesty and willingness to honour all versions of herself has made me want to do the same. I've also been revisiting old favourites from my adolescence like the books White Oleander by Janet Fitch and Wasted by Marya Hornbacher. It's interesting to see how those books have shaped me as a writer and how they've given me the language to write about suffering and survival as an adult.
What are some events at VFA that you are excited about?
I'm very excited about "mâmawi: Selena Boan in Conversation with Samantha Nock", "Forest Poet-Tree Walk" with Dallas Hunt, Linda K. Thompson, Isabella Wang, and Terence Young and "The Foreign Land We Call Canada: Immigrant Stories" with Francesca Ekwuyasi, Téa Mutonji, Jasmine Sealy, and SJ Sindu. It's so wonderful the festival has online options for people who aren't able to be in Victoria during the pandemic to attend!
…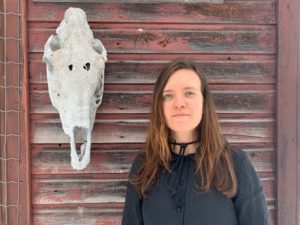 Cara Nelissen is a queer writer living in Vancouver. She's the author of the chapbook Pray For Us Girls (Rahila's Ghost Press, 2019), and her work has been published in several literary magazines, including Vallum, CV2 and Grain.