Arleen Paré, Earle Street (Talon Books, 2020), 96 pp., $16.95.
Arleen Paré's recent poetry collection, Earle Street, offers an affectionate yet unsentimental portrait of a neighbourhood in all its minute complexities. Surprisingly expansive in its consideration of ecology, geography, and human relationships, the book's well-defined subject matter—the title street, located in Victoria, British Columbia, on the traditional unceded territories of the Songhees and Esquimalt Nations, the Lekwungen and W̱SÁNEĆ Peoples—allows Paré to focus her impressive poetic ear in a series of short, meditative lyrics that unpack questions of identity and belonging.
Paré organizes the poems in this collection into four sections—"This Street Is a River," "This Street Is an Arboretum," "This Street Is a Window," and "This Street Is a World"—which are unified by a single voice, the poet's persona, an attentive resident of the street in question. The domestic, limited space of the neighbourhood street comes to serve, in part, as a microcosm for understanding identity in contemporary Canada. In considering her neighbourhood, the speaker also examines her own place in it. Many of the poems speak to her liminal identity: while her home is on Earle Street, the speaker also situates herself as an outsider, a positioning that operates on several levels.
Notably, the speaker and her partner are set apart from their neighbours because they are lesbians. In the aptly titled "Threshold," for example, neighbours look away as the speaker embraces her wife in the "unsettling" in-between space of their home's entrance:
even this short goodbye kiss      not outside but not inside the house either      at
the basement door partially open      a commonplace ritual      bye dear      stay safe
have a good one      is now unsettling at the threshold between one woman and
another (5-8)
The speaker and her wife again see their place within the neighbourhood called into question by latent homophobia in "This Street Is / Is Not a River," the longest poem in the collection:
I don't mention
belonging      being here only twelve years
uncertain how neighbours perceive
the missing husband      children too
the way we hold ourselves      she and I      like hinged gates (119-23)
This othering does little to detract from the speaker's passion for her wife, which is celebrated further along in the collection with "In the 4 a.m.":
the chorusing rain so ravishing
we rush out of the house to make love
a before-dawn silvery love
the cupped radiance
streetlights bright as upswelling joy (1-5)
This buoyant energy calls to mind the enthusiastic love lyrics of Paré's The Girls with Stone Faces (Brick Books, 2017), a book about the twentieth-century sculptors (and partners) Frances Loring and Florence Wyle. As in her earlier collection, Paré's stylistic copiousness in Earle Street mirrors her emphatic claiming of sensual pleasure.
A different kind of questioning around belonging emerges in poems like "This Land is a Language," where the speaker acknowledges her identity as a settler:
despite discovering that the word
unceded does not appear in the dictionary I use

language does not always keep pace
although it is implicated it is only a part

I pick apples in my backyard      place blue boxes out on the verge
on this unceded street
this land does not belong to me
though I now live on this street (11-18)
Here as elsewhere, Paré's language is guided by sonoric effects such as assonance and rhythm. While these choices do not complicate the internal logic of the poems, the effect is one of accumulation, almost excess. In reading and re-reading some of these poems, I occasionally found myself thinking of Paré's poetry as maximalist, ornate in a way that I found quite pleasurable.
In another context, I would like to give more space to a consideration of Paré's use of the prose poem. In addition to several poems written in paragraphs with standard punctuation, Earle Street contains a few haibun, as well as prose poems in which punctuation is absent. I do not have a name for the form used in pieces like "Street Life" (the book's very first poem), though in a review of The Girls with Stone Faces I published in Contemporary Verse 2, I referred to this structure as "[a] kind of exploded prose poem." This form, which also appears in the pages of Paré's Governor General Award-winning collection Lake of Two Mountains (Brick Books, 2014), uses extra spacing in its long, unbroken lines as a kind of caesura that establishes the poem's rhythm:
is windowed      angled right      rect cornered and lined
lineated and justified left      wooden and glass      is panels of light      light rain and
heavy      frames with leaves in a hurry      outside orientations      landscape portrait (1-3)
In its dual consideration of lesbian and settler identity, Earle Street reminded me of Sarah Dowling's recent collection, Entering Sappho (Coach House Books, 2020), which considers the legacy of the ancient Greek poet (and lesbian icon) alongside the settlement named in her honour in Washington state. More and more, it would seem, anglophone white settler poets in what is now called Canada are coming to acknowledge and reflect upon their positioning in colonial spaces and histories. So, too, does poet Bren Simmers consider her identity as the descendent of working-class Scottish settlers in her recent collection If, When (Gaspereau Press, 2021).
While Simmers and Dowling notably look to the past in their collections, Paré's Earle Street is firmly anchored in the contemporary. In this, her interrogation of settler identity and privilege is more direct, though the speaker acknowledges the nascent state of this reckoning. As she states in the opening lines of "This Land Is a Language,"
how seeing begins with small fragments of knowledge
small frames
before I began to see
I didn't know what I didn't see (1-4)
In a book deeply invested in seeing, witnessing, and observation, Paré takes care to acknowledge the limitations of her speaker's perspective, and allows herself the space to leave some questions unanswered.
…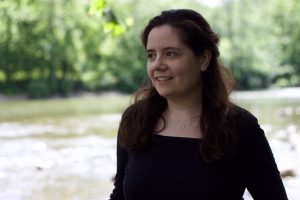 Annick MacAskill is the author of No Meeting Without Body (Gaspereau Press, 2018), a finalist for the JM Abraham Award and the Gerald Lampert Memorial Award, and Murmurations (Gaspereau Press, 2020). Her poems have appeared in journals across Canada and abroad, as well as in the Best Canadian Poetry anthology series. Her third full-length collection will be published by Gaspereau Press in the spring of 2022. A settler of French and Scottish ancestry, she lives in Kjipuktuk (Halifax, Nova Scotia), on the traditional, ancestral, and unceded territory of the Mi'kmaq.