I.
welcome to the good woman. welcome to my mother or my lover. welcome to knowing what will not save me. i want to be clean, washed of conditioning, and rub shampoo dry with the past as a patchwork towel i made from every mistake. i want to cry and not
blame it on the aftershave. tomorrow i will let her stay for breakfast. welcome to tomorrow where i will make the good woman bad because i cannot help
myself. i cannot help myself.
II.
when i cried i found every reason that you lied with your mouth. words which tell me i am whole and complete but paint me a self portrait where i am
words i used to break you on the bathroom floor. words that tasted like soap but were apologies. i rubbed them against your open pores until they too broke. you told me healing is not binary.
III.
i have a utility attraction to prescriptive people. tinder is called healing and i am in the hospital asking for herbal tea and ginseng root and for someone to please verify my healthcare card. tell me about shadows and i will show you where you can sew mine on. tell me to swim and that it will cleanse me. tell me you can fix me and i will give you the razor. tell me to leave you alone and i will find your hair in my food like resurrecting the dead. i will reaccompany myself with every savory bite.
IV.
when i go out to date i make a rope with the hair i shave. killing a beast with every braid. stubble is as sharp as scissors, as sharp as fear. femininity is a balloon i cannot pop but do. i tape over the holes and try again. when it is blown i put my head in it. like protection. but i am not fixed, cauterized, or open minded. first i need to be my own bae (and be a bridge everyday) and open this motherfucker up! i want to eat the cheque and use the bidet to flush out all the bad words i've ever said about you. those word i tried to wash out with soap.
V.
Liberation is: 1. nothing i can steal from a good woman. 2. 3. the self portrait where my face is painted, immaculate, on a balloon. my hair is glued to static sides and crowned in razors. when my porcelain torso straightens, after good mothers have been vindicated, before sex and apology, before sex and this monologue on college dudes who internalize rejection until they can no longer tell their mothers they love them.
…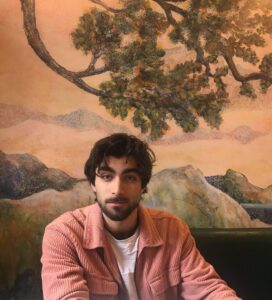 Tosh Sherkat studies poetry and fiction at UVic. From Nelson, BC, Sinixt and Ktunaxa territory, Tosh writes about contemplative thought in the mountains, race as a dark-skinned settler, and reforming masculinity. His publications include: This Side of West journal for poetry and CNF, and forthcoming publications in EVENT.