Interview by Shannon Webb-Campbell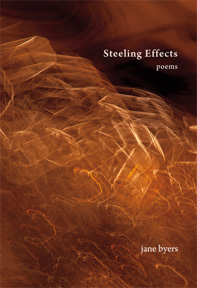 Jane Byers is a poet that conjures mind, heart, and embodiment. Her stunning debut collection of poetry, Steeling Effects (Caitlin Press, 2014), is deeply queer, beautiful and expansive.
Byers lives with her wife and two children in Nelson, British Columbia, where she writes about human resilience in the context of raising children, lesbian and gay issues, sexism, local geography and health and safety in the workplace.
After many years working for the City of Toronto in corporate health and safety, Byers now works at WorkSafeBC where she continues to facilitate resilience in injured workers. Her poems often explore resilience and recovery. Her poetry, essays and short fiction can be found in a variety of books and literary magazines in Canada, the US, and the UK, including Grain, Descant, and the Antigonish Review. She also has new poetry forthcoming in Issue 4 of Plenitude Magazine.
What inspired the title of your debut poetry collection, Steeling Effects?
Resilience is the subject that forms the backbone of this book. Why some of us bounce back after trauma, others not. My partner actually came across the term "steeling effects" when I was searching for resilience related titles for my book. It is the phenomena in psychological resilience research that certain stressors may immunize or enhance subsequent functioning of the individual. When I heard that phrase, I knew it would be my title.
How did you come to poetry in the first place?
I came to poetry through the usual teenage angst poems, which gave me the slightest glimmer of expression of my budding sexuality before I even knew. I had this wonderful English teacher, James Kellway, who encouraged that expression without ever pushing me beyond my subconscious meanderings on the page. Creative writing was dormant through my university years, when I was too busy with beakers and VO2 max tests. In my late 20's I yearned to get back to it and took some Continuing Ed courses through Toronto Board of Ed, Ryerson and eventually Banff Centre for the Arts.
In Steeling Effects you explore several themes, including birth, child-rearing, human resilience, queer issues, sexism, health and safety in the workplace, and geography. What's your poetic process like?
I was really intrigued with human resilience so most of the work is seen through that lens. I've worked in occupational health and safety and disability management for many years and became interested in observing some people be devastated by seemingly small injuries and others be strengthened in their resolve after very serious, life-threatening injuries. I see everything through the queer lens, because it's how I live my life and it has given me an outsider perspective that is necessary for the kind of writing I do. I draw from parenting because it is such an intense experience, the most difficult and the best job I've ever had. I want to foster resilience in my children. We can't control what comes their way, but we can give them some strategies to live with and in some cases overcome adversity. Geographic themes are informed by living in the middle of the mountains, which now feels like home but I'm from eastern Ontario so I reflect on this land with new eyes, with an outsider's perspective.
How does your family influence or inform your poetry?
My wife is a documentary filmmaker and we support each other's creative work, in terms of giving each other space and bouncing ideas around and often being each other's first eyes on projects.
I was quite worried about not having time/space to write once we brought our twins home. While time is at a premium, I've found that having kids has cracked me open in ways that make my writing more accessible, more open, not to mention giving me new perspectives and great stories from which to write. I've written more since having a family, though it does tend to be very early in the morning before their little feet come padding down the stairs.
Several of your poems discuss birth, and mention incubators and medical instruments. What inspires you to write?
I started to write about my own birth when we adopted our twins. They, like me, were in incubators for a while after birth. I got to thinking about what that must have been like, did some research, reviewed their records, talked to my mum. I'm interested in the notion of us all being alone, in a profound sense, yet being social animals and having such deep interdependence as well. Another term for incubator is isolette. When I learned that I knew I had to write it.  Through discovering my twins' birth stories, I was able to contemplate mine and posit that the near death and the trauma of being alone and without my mother, who almost died in childbirth, could have immunized me against future despair.
What does it feel like to have your first poetry collection out in the world?
It feels exciting and like a deep sense of relief that it came to fruition–the long journey to publishing one's first book, to finding a publisher to accept a first book of poems. It was such a great process with my publisher, Vici Johnstone of Caitlin Press, who is full of integrity and cares about all the things that should matter. It feels optimistic to create something new in the world. It's an act of light in the dark, quelling the cynics (both inside my head and out). It also feels vulnerable in that way that people will think they know me because of my poems, even though poems are not autobiography.
What is the poet's role in todays' society?
The role of poets is, as it always has been, to think deeply about the world, to make connections where maybe there were none, to distill information into meaning. I think we also have the added challenge of finding ways to be relevant. Poets take the long view. Poetry and other creative work should be stuffed in all the time capsules so future civilizations can understand their ancestry beyond the topical details in the news.
How does being queer relate to your poetry?
It's an interesting question because it's an essential part of who I am. I think it gives me a perspective that many people don't have. There is a self-exile and an imposed exile. Exile is a necessary part of being a creative person. I like being an outsider, watching the world from here. I get to witness my kids at preschool challenging other kids that two girls can't marry or boys have to marry girls. It's fun to be witness to that. Then I get to write about it. It would be kind of boring if we were all the same. I like the freedom from societal norms.
What are you currently working on?
I am currently well into a poetry manuscript that attempts to write Canadian/US lesbian and gay history through poems. I am also writing an essay on adoption for a lesbian and gay anthology.
Who are your poetic influences?
Carolyn Forche, Mark Doty, Frank Bidart, Louise Gluck, Michael Lynch.
What are your future aspirations as a poet?
I want to be more permeable while writing, push myself to the most profound truths, not be held back by any remnants of shame or fear. I want to write the lesbian and gay history poems in a way that illuminates that history so that it is relevant for many generations to read.
What are you reading lately?
I'm binging on Canada Reads titles: Just finished the exquisite Half-Blood Blues by Esi Edugyan. Poetry: Ocean by the insightful and brilliant Sue Goyette.
Shannon Webb-Campbell is the Critic-in-Residence for Canadian Women in the Literary Arts (CWILA).