i'm from here, drifted in from there,
waterlogged, kelped,
the sway of the sea still in my knees,
where my motion sickness pulls from.
like Bà Ngọai, i'm walking as i'm balancing
a fishbowl upon my neck, my eyes convexed
behind an unseeing lens as clouded as her
mung bean yellow cataracts.
i miss the chả lụa she used to make,
the pale pork stained green,
sweating in banana leaves,
the smell of salt and land
together,
intertwined
through memory.
sliced into moons on plates
of hardened rice crêpes,
fried onions, limp bean sprouts,
and the neighbour's mint.
the sun browns your hair through the window,
draws sighs from the nape of your neck
as you dab your forehead and cheek
with the inside of your sea-veined wrist.
your chả lụa tastes terrible.
full of you and me
and us trying to be a family
undissolved
by place, tongue, or taste.
i think of the bánh bao. the white peak
twisted between your thumb and index finger.
rows of them on my lined paper that is
cut into squares instead of written into essays
about how this is our meal,
stretched across a five-by-five grid on the lino,
the lightly peppered insecurities
inside soft containers of humility,
of your unspoken heart and patience back then
before a Bathtub Violence, an Utter Unbelonging,
and my Unexpected Suicide
pushed you out
onto the glassy heart of the sea.
we search for each other still,
crying:
who took you away from me?
…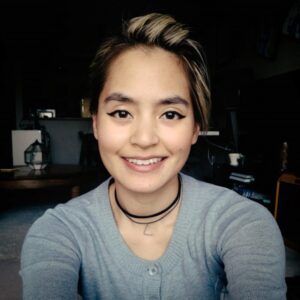 A queer writer, songwriter, and Vietnamese settler, ViNa Nguyễn (she/they) won Briarpatch's 2020 Writing in the Margins Contest for creative nonfiction, and was longlisted for PRISM international's 2021 Jacob Zilber Prize. Her stories appear in Augur, antilang., The Selkie, and others. They live on Treaty 7 territory of the Blackfoot Confederacy, Îyârhe Nakoda, and Tsúùtínà First Nations communities while intersecting diasporic identity and resistance in their creative work. Check them out at www.writerfluid.com.