Your chef will be the first to say
not a muster of hair should remain
as he timbers a fire,
wide hands barb your fattened flesh.
Thigh all manner of birds;
you're as light as a feather
thick as a board.
Resentful caretakers
break their deer, unlace
legs, loosen flesh
cleanly from each side
of bone,
crave the chorus that escapes
the nest of ribs.
He lifts you, his swan, discards
a clutch of joints—pluck
the backbone not off—
pulls a leg softly, thrusts
his knife between third and fourth ribs,
and lays your legs close together.
No brutish man carves, you allay!
These are the methods, no need
to crawl out of your own skin
when he'll pull you out.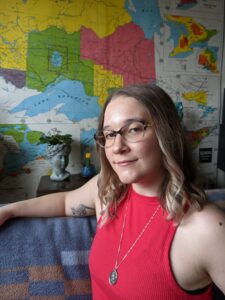 Ashley-Elizabeth Best is a disabled poet and essayist from Kingston, Ontario. Her work can be found in New Welsh Review, CV2, Grain, Ambit Magazine, The Literary Review of Canada, and The Glasgow Review of Books, among others. She was a finalist for the Robert Kroetsch Award for Innovative Poetry, and her debut collection of poetry, Slow States of Collapse, was published with ECW Press. Best's chapbook, Alignment, was published with Rahila's Ghost Press in summer 2021.