Reviewed by Adam Holman
In Andy Sinclair's debut novel Breathing Lessons, he writes about how people "should do what they want," whether in hookups or matters of the heart. We are forced to contemplate the repercussions, and Sinclair guides us with a precise assurance, taking us, along with its wandering narrator, through the possibilities of love and lust.
This particular case study in consequence-free romance fixates on a modern gay man named Henry Moss, who supplies us with a wide range of relationship fodder. The novel explores Henry's existence over time in a variety of places. He grows up in small-town Ontario, training as a lifeguard at summer camp. We fast-forward to his life in Toronto, as he frequents the Beaver for dance parties and uses Craigslist to find rough sex. He returns to his rural roots in the summer, working at a bar and lusting after an old classmate. We see him in his earlier days as he moves to Vancouver and finds comfort in spending the holidays with his new roommate after he comes out to his parents. Each locale tells us something more about Henry—how he reconciles his relationships with his family with the lack of one he has created on his own, his fears of being alone, his romantic struggles with men he finds comfort with, but who can't or won't love him back—and increasingly, as he repeats his mistakes, we question what it is he is looking for in the first place.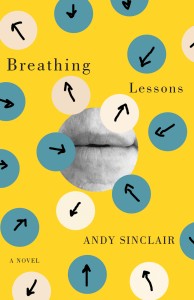 In the novel, Sinclair displays an ability to write fantasy simultaneously with hyperrealism. Henry has no shortage of men to hook up with, or fall for, or be rejected by. Even before the age of Grindr it's a fairly accurate portrayal of a gay man's life in a big city. And yet Henry's relationships—especially with straight men—are often the gay man's quixotic ideal: an ongoing friends-with-benefits hot fling with a man with a serious girlfriend, a mutually transparent and unequivocal friendship with a gym buddy, a loving and platonic friendship with an old schoolmate. Henry moves down the list of the myriad of male relationships, ticking each one off as he tries to see which one fits and feels best.
His problem certainly isn't that he's fastidious. But there are patterns that emerge. The men he craves are unavailable in different ways—married or attached, emotionally vacant, in love with anything other than Henry himself. Then there are the relationships where he has a legitimate chance of receiving the love he craves. Sinclair allows us to witness this parade of hookups, roommates, and boyfriends in stark detail. In each of these lessons, he handily displays his ability to consistently capture the crux of a relationship—however on the cusp or fleeting—whether it's the quick cadences of a drug-fuelled fuck-fest or the more complex inflections of a dissolving unspoken open relationship. It is in these passages where Sinclair shows us again and again that in Henry's world, people act and react with the guiding tenet of if it feels good, do it.
But there are aftereffects. Henry reflects: "Every day I wonder if my feelings for him will go away and every day the answer is no." This is the downside of that unrestricted do-what-you-want world that Sinclair paints for us:
People sense sadness and stay away from it like it's a sickness. You can pick it up like that on a person. I run into an old friend who has a baby and she chats with me for a while, but then I see the click of realization and she holds her baby closer and says goodbye. I don't blame her.
These honest passages lay Henry's world threadbare so he can reconstruct, come to terms of some sort, perhaps resolve, and yet make the same mistakes again and again. Sinclair also skillfully balances this essence of gay singledom with what Henry thinks his family must think.
"After you have kids," my mother says on the phone, … "there comes a certain maturity."
Then, catching herself, "I didn't mean—"
Me: "Never mind."
My mother: "Oh, honey, your father and I just love you."
These cues give Henry pause, and he worries about what his mother must think. But what worries him more? His mother's fears that he can't find love or that he won't have children? This is, whether underlying or overt, a familiar concern in writing about gay bachelorhood. We see it too in Brian Francis's Natural Order, another Canadian novel that forces us to contrast the yearnings of a gay son with the standards of his family's love.
Sinclair asks:
What do parents endure? Do they have any idea beforehand? I'll never have kids; I wouldn't be able to stand it.
I have never had to deal with what you are going through, said my mother.
Breathing Lessons is at once recognizable in the ways its gay relationships play out and revealing in its study of a character who refuses to be satisfied by any of its familiar tropes. It's an instructive novel, and it imparts a dual sense of experience and clarity that is more than welcome on the gay literary landscape.
Andy Sinclair, Breathing Lessons (Véhicule Press, 2015). Paperback, 180pp., $18.00
Adam Holman lives in Toronto.