The incredible thing about Local Heroes, the series of short films made by local artists at the Toronto Inside Out Film Festival, is when you start to see the influence artists, actors, and organizations have on each other's work. New Zealand–born drag queen and certifiable local hero Judy Virago appeared in not one, but two of the short films. She starred in What Makes Me a Woman, a short documentary where she reflects on her gender identity leading up to a breast augmentation procedure, and made a cameo in Monster Mash, where she was spit on by drag colleague Igby Lizzard in a truly divine John Waters reference. Film review contributor Michael Lyons caught up with Virago the morning after the Local Heroes screening.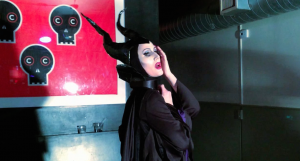 Michael Lyons: First of all, again, congratulations on What Makes Me a Woman. How does it feel to be a Local Hero?
Judy Virago: It feels pretty wonderful! I've been coming to Inside Out for about four years now and this was my second time being a part of something presented in Local Heroes, but this time was bigger for me because it was such a personal story, and coincidentally fell on the exact date of my one-year boobaversary!
ML: How did the project come about?
JV: Vince Racanelli, the director, originally contacted me through social media. He had been a fan of my shows and costumes but we'd never actually met. He pitched an idea to me about making a short documentary on a group of different trans people, so I met up with him and we got talking. I was worried about a cisgender person telling a cliché "I'm in the wrong body" transition story and wanted to make sure that the subject wouldn't be sensationalized. I was also worried about people getting confused about the difference between a drag queen and a transgender person (and I just happen to be both). I think at the time Vince didn't have a set idea of what story he wanted to tell, he was just open to letting it happen, and I had just scheduled the date for my breast augmentation, so the timing was all just very serendipitous.
ML: What was it like having a camera crew in your life? 
JV: I was resistant at first because at the same time as acknowledging the importance of sharing our stories, I was so wary of "transploitation." I've been on hundreds of stages, and I've worked in film and TV before, but actually having a crew around just to capture my life made me feel very exposed. I felt very vulnerable and guarded on the first day, which was when we filmed the interview, but I loosened up as we got to know each other and was absolutely elated with the final product. Vince and his crew were very respectful the whole time, and when they slipped up on anything they were open to correction and learnt quickly.
ML: Did you have any other favourites from the Local Heroes shorts last night?
JV: The who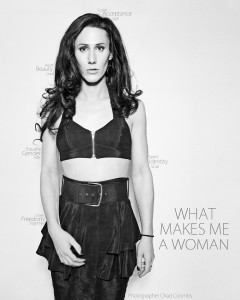 le showcase was pretty brilliant, really. I loved Midnight at the Continental because I'm a sucker for local queer history. All That Is Left Unsaid was beautiful, and the soundscape created was mesmerizing. Bedding Andrew really got to me because Andrew was so candid and generous with his story and although his is not a voice we often hear in the queer community, and his experience is so specific, the feelings he shares are universal. And of course Monster Mash; Mark Pariselli is a genius, he packs so many references into the film (and it really is a horror story—who wants to drunkenly take someone home only to find out they don't actually want to have sex?).
ML: Last question. What's it feel like to be a Pink Flamingos reference (especially with Igby Lizzard spitting on you on the big screen)?
JV: Amazing! Connie Marble is one of my all-time favourite movie characters! Igby and I had just done our John Waters tribute party "BAD TUCK: The Filthiest People Alive," and Mark saw the outfits and asked us to be in the film. Seeing Igby spit on me in all her glorious Divinity was probably the highlight of the night.
What Makes Me a Woman and Monster Mash screened as part of the Local Heroes shorts series on May 28, 2015, at the Inside Out Film Festival in Toronto.
Michael Lyons (@queer_mikey) is a queer-identified writer, journalist, and game maker. He writes for DailyXtra.com, where he and a colleague pen History Boys, a bi-monthly column on lesser-known LGBT history. He has a story coming out in an upcoming anthology titled Rad Women and the Things They Did. He is also working on his first video game, an episode of a popular LGBT-positive dating sim for young people.