Pear trees line the grove,
netting the sun,
sheltering the predators encroached
behind the thick green leaves
and bodies fat and round.
You pass me a knife
and ask if I would carve a feast
for you, a garden
under golden skies and pear skin peels
as cries of insects pitch the air.
Fireweed, knotweed, milkweed
snicker under the gentle press
of summer heat clinging
to our sprawled bodies,
skirts dusted in dandelion finery.
Skin pops, bleeding glass
pin-pricked with light.
When I'm done, you lick the sweat
off my lips, your lips
gliding with a half-curved interest
up my cheek; the knife sticks
against my thigh,
gleaming, dripping slowly
with fresh-split delight.
I didn't expect to be so indulged.
The sun catches in our teeth
sinking into flesh,
sucking down the sweetness
of bodies under the pear trees,
roots catching discarded seeds.
…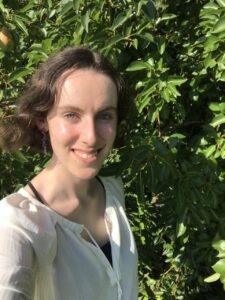 Ashley Van Elswyk is a queer writer of fiction and poetry, and editorial assistant at Biblioasis. Her work appears in publications including Idle Ink, Not Deer Magazine, and the anthologies Chlorophobia (Ghost Orchid Press, 2021) and Kaleidoscope (Cloaked Press, 2022).