Jaimi texted, "Dad died. Call home," on the eve of World Pride in Toronto. I had just gotten a haircut. I was sweaty from my bike ride home, jumpy with anticipation for the weekend ahead. Our two cats curled through my legs, begging for kibble. As I read, she texted again—Art found him. We didn't know what Art was doing at my dad's because they didn't like each other, but we assumed Dad owed him money. Another text: The police think he's been dead two days.
Five days after Dad's body was found (four days after I hollered at an all-male burlesque at Lee's Palace; three days after I bought an ex-girlfriend an ice cream cone at Summers in Yorkville; two days after I stood at the barricade on Yonge Street to watch the Pride Parade; one day after I drove alone for seven hours to get to my hometown), I walked through the backyard of my dad's house in Bedford. The backyard was big, and could have been homey had someone tried, but all my dad had out there was a rusted white table and two dusty white chairs. I climbed the porch steps and peered through the sliding glass doors looking for the spot on the kitchen floor where Tyler said he had cleaned up a pile of human shit the day he and Jaimi emptied the house quickly, so we wouldn't have to pay July's rent. They had thrown everything out except family photos, Dad's wallet—which he had jammed under a filling cabinet—and a plastic bag of papers Tyler had dug out of the rolltop desk before that too was dragged to the road.
That day in the backyard, Jaimi and I were looking for Dad's cat, a feral tabby that Jaimi called out to. "Mademoiselle! Maaaadeeemoissellle!"
"Are you looking for the cat?" Joe asked as he came around the side of the house. "Because if you are, I took it to the farm yesterday." I knew it was a euphemism and I didn't care.
We left the house and drove to the pharmacy to cancel Dad's prescriptions—a heart medication, cholesterol pills, something for his kidneys. There were so many half-empty bottles, Jaimi had put them in a white plastic shopping bag, which she handed to the pharmacy technician as if she was holding a kitten by the scruff of the neck. When the tech tried to offer her condolences, Jaimi said, "Merci, c'pas nécessaire" through clenched teeth.
We sped out of the pharmacy parking lot. I looked out the window at the grimy houses along rue de la Rivière, at Exeltor's abandoned brick building, at the empty lot where Art's bar had stood before it burned down, but I wasn't seeing anything. When we passed the mini storage outside Bedford, Jaimi slammed on the brakes and yanked hard on the steering wheel. We skidded into the parking lot and I put my hand on the hot plastic of the glove compartment to brace myself. "Does Dad still have a storage unit?"
"I don't know," I said without looking at her. Jaimi was hyper-focused on the task at hand—making sure there were no loose ends, that we tidied up after Dad as fast as possible so we never had to think about him again. She called the number on the sign. I was distracted. I was going over a list of questions to which I didn't think I'd ever get answers.
Why couldn't he stop drinking once he started? How long do I have before I can't stop?    
Why couldn't he keep it in his pants? Will I always be unsatisfied too?
What made him so violent? Is that violence inside me?
Why did he have kids if he didn't want them? Will I be a terrible parent?
Did he love me and if he didn't, what did that mean?
Next, we went to Walmart in Cowansville to stand in front of the Kodak picture printing machine so that we could print a picture of him in a burgundy dress shirt with a corsage on his lapel. I knew it was taken at someone's wedding, but if I once knew whose wedding, I didn't anymore.
Jaimi and I spent some time tapping at the machine's buttons, discussing the photo sizes. We fussed under the fluorescent lights like we loved this man.
"What do you think? 4 x 6?" Jaimi asked, toggling between the options.
"That seems small."
"What about 8 x 11?"
"I don't think he's earned that."
"5 x 7 it is," Jaimi said as she hit print.
◊ ◊ ◊
Later that week, Tyler brought the framed photo to the Old Mill, the bar Dad owned for 30 years, and opened the frame's kickstand on the counter near the gap in the bar where Dad always stood. He bought him a double whiskey and Diet Coke and set it down next to the photo. When I sat down, Tyler told me a little too loudly about the whiskey Coke, and I noticed a vodka orange in front of him. I looked across to the tall glass sweating on the pine counter. I wouldn't have sprung for the double, probably wouldn't have bought the drink at all, but Tyler had always cared.
Dad's four children—Mike, Jaimi, Tyler, and I—sat across the bar from that photo and accepted the condolences that were offered. Jaimi went outside for a smoke. Tyler went to take a leak. While they were gone, Mike and I slid closer, bookends coming together while the books were away. We took a selfie on my iPhone. I posted it on Instagram.
Where I grew up is small, and everyone knew our mother raised us alone in poverty, that my dad was the type of father who never knew what grade we were in, what size shoes we wore or how much it cost to feed us. That day, I was glad everyone knew. I didn't have to pretend a grief I didn't yet feel. I could feel what I felt honestly: anger that we had to do this at all, a sadness that wasn't sorrow, a sort of nervous anticipation to see people I hadn't seen in years.
When I left the bar, the woman who drove the bus I took to elementary school rushed out the front door and grabbed me up in a hug. I remembered watching her play softball in the late summer when I was eight, how fast she was as she chased down flyballs in right field, how I had a crush on her even before I knew I was queer.
◊ ◊ ◊
When I went back to Toronto where no one knew anything about how I had grown up, I kept the narrative brief, and when people asked if my dad had been sick, I said he'd been ailing, but that his death was sudden. I wore a mask that I hoped looked like grief.
I didn't say that after I'd read Jaimi's texts, I stood on my balcony and called Tyler and cried into the phone.
"It's okay, Lolo. He lived his life the way he wanted to."
"Tyler, I feel relieved, like it's finally over, but I'm sad he died alone."
"He wanted to have fun with his life. Gamble, fuck around, drink. He did that and he died doing what he loved."
"How can you be so rational about it?"
"There's no sense being upset about it. He chose his life." The light was fading. I lay my head on the balcony railing and looked down at my bare feet. "Logan, he had his chance to change, and he didn't." Tyler said this slowly, calmly, but I felt his rage over the phone.
What Tyler meant was that my dad had been diagnosed with alcohol-related dementia a year earlier. A concerned doctor found him a spot in a care home to see if three months without a drink might improve his memory.
Jaimi, Tyler, and I took him there on Christmas Eve. While Jaimi helped the nurse fill in an intake form, I stared at my dad. He seemed so forgettable in his forest-green sweater with the word "golf" emblazoned on the front. He asked me where I lived and what my job was. I answered the questions as they were asked but didn't offer any details. The nurse looked at us, confused by the conversation, so Tyler told her I hadn't seen my dad in a decade. I didn't know if that was true because I couldn't remember the last time I had seen him.
Before we left, we walked him around the basement where his room was. I walked ahead with Jaimi, poking my head into any open door. Behind us, Tyler and Dad were talking. "I'm going to get better," Dad said. "And I'm going to get my family back."
"You just concentrate on getting better," Tyler said, rattling the keys in his jeans pocket. Tyler was the only one of us who visited him every week. Close to when Dad was going to be released, Tyler told him that if he could stay sober, he would invite him to his house, let him get to know his grandkids.
That was the chance that Dad blew. After he was discharged, he didn't last a week without a drink.
◊ ◊ ◊
After I left the bar but before I drove back to Toronto, my siblings and I and my aunt Carol got in a boat driven by Tyler's friend Wightman to scatter my dad's ashes on the river near where his father had had a summer camp. As we moved slowly away from the bar, I thought about my aunt. She was the youngest child and the only one left from her childhood family. I too am a youngest child, and looking at her, I wondered whether I would ever have to brave the loneliness of being the last one.
We motored upriver, passed the houses on Sandy's Lane, while Carol and Mike talked about where Grampy's camp might have been, and when they agreed we were mostly in the right spot, Wightman cut the engine, and we drifted. Tyler pulled the plastic bag of ashes out of the box, took off the metal twist tie and put it in his pocket.
We all looked at each other like who is going to talk first. I kept my mouth shut. "You were a son of a bitch, but you were my father," Mike said.
"Love you, Dad," Jaimi and Tyler said.
"Goodbye, brother," Carol said.Tyler looked at me and when I didn't say anything, he turned the plastic bag over to dump the ashes in the river. The wind blew them downstream, into the well of the boat, and onto us. Carol leaned over and traced the end of her index finger along the boat's inside edge, gathering ash as she went. Then, she brushed what was left of my dad into the river and he was gone.
…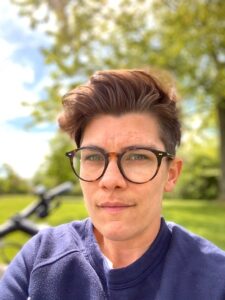 Logan Broeckaert is a graduate of the University of Toronto's Creative Writing Program. Their essay collection, Boyish, was a finalist for the 2019 Marina Nemat Award for Creative Writing. Logan's work has appeared in Room, The Humber Literary Review and most recently in Tongues: On Longing and Belonging through Language.