by Adèle Barclay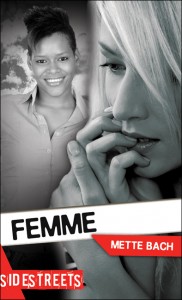 Mette Bach's young adult fiction debut, Femme, is a decidedly modern and timely coming-of-age narrative published as part of Lorimer's SideStreet Series. The series boasts a mandate of publishing edgy and realistic novels for young adult readers. In this vein, Bach offers a new take on the queer coming-of-age story, one that aspires to retire stereotypes and old tropes in order to give young queer people hope. The novel doesn't merely spout the mantra "it gets better" but, instead, tries to enact it as an ethos through depicting an uplifting trajectory.
The story centers on Sofie, a floundering high school student from the Lower Mainland. While her grades take a nosedive, she spends all her time with her popular and handsome boyfriend, Paul, and is on the verge of ascending the high school hierarchy. She knows she's supposed to feel grateful for Paul's affection and her burgeoning social clout, but for reasons she can't seem to articulate to herself, she doesn't.
Sofie then crosses paths with Clea, the school's only out lesbian and an academic superstar who is tasked with tutoring Sofie in English. Clea is butch, biracial, ambitious, and studious; her identity and outlook challenge Sofie's own, opening up her small, suburban world. Sofie and Clea become unlikely friends and embark on a road trip to Portland to check out potential universities. While out dancing at a queer bar (shout-out to the real-life Holocene), an older lesbian calls Sofie a femme and she immediately grasps the word; its connotations and identity, though new to her, feel like they fit. Sofie's recognition of femme is instant, and the experience begins to give shape to her desire for Clea that has been slowly broiling.
The novel details Sofie's navigation of the ensuing conflict between her newfound queerness and the social and familial fallout. Through all of this, the novel argues for the importance of labels and terms, especially with regard to femme identity. Femme visibility is an important issue: stereotypical cultural scripts tend to erase or undermine feminine-presenting queer women. Femme seeks to validate this identity as viable, offering an example of a young queer femme coming to terms with her sexuality. In her novel, Bach strives to portray femme-presenting queer women as real in resistance to their exclusion from outdated queer narratives and their unfortunate appropriation in straight media. The novel emphasizes the importance of femme visibility and naming—simply hearing the word "femme" is so crucial for Sofie's queer awakening. In focusing on a femme coming-out story, the novel enacts this visibility for young readers.
While magic and fantasy are popular young-adult-novel genres that address difficult issues, Femme remains in the realm of realism in order to hash out the harsh minutia of the everyday. Bach develops the story from Sofie's naive yet curious perspective, paying patent attention to local and minute descriptions. Largely, Sofie's days are dedicated to school and the Internet. The setting is particular to the Pacific Northwest. This geographic specificity in combination with the novel's ordinary vernacular imbue Sofie's experience with a mundane and intimate quality meant to render Sofie and her struggles relatable to the novel's intended youth audience.
The novel is short with simple language that attempts to mimic contemporary speech. As a result, the narrative is condensed, with incredibly quick conflict resolutions. There are touching moments of emotional depth in short vignettes, like the care with which Sofie cooks for her mother, her mother's fraught response to her coming out, and the exhilarating buzz that accompanies her interactions with Clea. These slightly more drawn-out moments flicker amidst the fast pace and plain language. While I laud Bach's refusal to dwell too darkly, pivotal events—Sofie's confrontation with bullying, her coming to terms with her sexuality, and her attempt to begin a relationship with Clea—could have been explored in more depth and with richer language in order to draw readers more closely into Sofie's queer experience.
Femme is an innovative coming-of-age novel, intent on carving out space for needed and relevant narratives by devoting attention to a young queer femme. And while the novel depicts difficult trajectories, its vision is sober rather than bleak. In Femme, Bach provides young readers with a queer story that aims for both realism and optimism.
Mette Bach, Femme (Lorimer, 2015). Paperback, 176 pp., $9.95
Adèle Barclay's writing has appeared in The Literary Review of Canada, The Pinch, Poetry Is Dead, The Rusty Toque, Cosmonauts Avenue and elsewhere. Her debut collection of poetry was shortlisted for the 2015 Robert Kroetsch Award for Innovative Poetry and is forthcoming from Nightwood Editions in 2016.