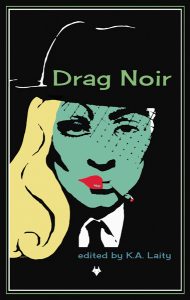 Reviewed by Latonya Pennington
Published in 2014, Drag Noir is an anthology edited by K.A. Laity for Fox Spirit Books. It is also the third in a series of anthologies focused on Noir. Most of the contributors, including the editor, are on the LGBTQ+ spectrum and are successful speculative fiction authors in their own right.
In the introduction to Drag Noir, drag is defined as an act that reclaims a personal identity or transverses broader gender roles. Noir, on the other hand, is a post-WWII movie genre that ambiguously played with gender roles. These stories not only explore the intersection of the drag and noir genres, but also show the trials and triumphs that come from defying gender norms. Some of the stories are empowering, while others are more tragic.
One of the empowering stories I enjoyed was "Wheel Man" by Tess Makovesky, which features a female car thief who employs some clever gender-bending methods to continue selling her goods. The delicious thing about this story is that the person she sells to is none the wiser until the very end.
Another story I enjoyed is "Lucky in Cards" by Jack Bates. Narrated by a female Detroit card dealer, this story has a femme fatale hidden under the guise of a modern lovelorn woman. When her femme fatale side finally comes out, it is a shocking surprise that left me in awe of her violence as well as her agency. She is vindictive not only out of disgust and hatred, but also out of the need to control who she can love.
Sometimes, the empowerment doesn't just come from the story as a whole. I found myself making note of certain lines that struck me with their boldness. For example, a paragraph from Micheal S. Chong's story "Trespassing" reads, "Being female is my super power, changing not just how I look but my capabilities too. The female guise is my enhancement, to attract good attention, sexual interest, lust and likability, not hate and otherness." Lines such as these demonstrate the power of owning your gender identity, gender expression, and sexuality.
The pride expressed by the characters in Drag Noir is especially meaningful when it comes to the less happy pieces in the collection. In "Chianti" by Selene Macleod, the boyfriend of an escort service drag queen recounts his time with her before she is murdered. Other stories, like Richard Godwins "The Meaning of Skin," are less tragic, but filled with bittersweet introspection. A memorable line from "The Meaning of Skin": "We're all strangers, peer behind the veneer. We make ourselves up until we can't anymore."
While those familiar with drag or noir won't be shocked by the domineering sexual figures or tragedy, stories that mix noir with other genres were a pleasant surprise. "The Itch of Iron, the Pull of the Moon" features urban fantasy elements that involve a gender-bending fairy creature, humans, and werewolves. It's fun and fresh and something that you can actually imagine happening in real life.
A more thought-provoking story is the noir sci-fi mashup titled "Straight Baby" by Redfern Jon Barret. Set in an Orwellian future, this story concerns a gay disabled man engaging in nights of debauchery in the shadows of a company that tries to enforce traditional family ideals. Smart and bleak, this story demonstrates how personal identity can be compromised for the sake of what others want you to be.
If there is any flaw in this anthology, then it is the lack of variety on the gender spectrum. In the foreword, the editor comments on how few drag king stories there are. While there could've been more drag king stories, there also could've been some gender fluid or agender stories too. It's impossible to include everyone on the gender spectrum, but the stories limit being non-binary to wearing drag and being transgender.
Overall, Drag Noir's triumphant and tragic stories suit the grey areas that exist in fiction and real life. Despite the risk of having people threaten your life, you can claim your gender identity and sexuality and express them. These characters of drag and noir may only come out at night, but they shine like the stars.
Various, K.A. Leity. Drag Noir. (Fox Spirit Books, 2014). Paperback 236pp.  $11.00
Latonya Pennington is a freelance writer based in the United States. She has written reviews for Black Sci-fi, Panels comics, and Black Girl Nerds.