Jade Wallace
after Jean Day
Ours is a generation of wistful and
somewhat attractive humans, wanderers
in a bad and beautiful slough. We say
that all we want are convincingly unisex
jackets but what we mean is that we are
tired of bitter butterfinger metaphysics,
bored of biding our time in the anteroom of
the psychic. Waiting may be a form of praise,
so we hold out for a future, not that our
abstinence has helped in any way. We're still
affable, corruptible, perpetual volunteers
alive in our own space-time vehicles while,
we imagine, the rest of the eras are
off somewhere having meaningful sex.
Nevertheless we keep waiting, keep guessing.
Everyone is clairvoyant sooner or later.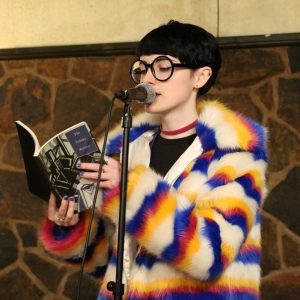 Jade Wallace's poetry, fiction, and essays have been published internationally, including in Studies in Social Justice and The Dalhousie Review. They are a member of Draft Reading Series and the writing collaborative MA|DE. Their most recent chapbook is Rituals of Parsing (Anstruther Press, 2018). Visit their website at jadewallace.ca.