N. Page
Shear my hair to its roots, 'til I'm bare. I'm ready to reset,
to begin again as whoever I was three years before.
Shampoo intruded on my eyes too often anyway,
and pomade was stubborn, took hours to wash away.
My clothes started to bully me. My kicks kicked back.
The jewellery wrapped 'round my fingers and wrists
was mined from quarries of crystallized laughter,
cut by an amateur, sold at a discount.
I foraged together a room from particle board and wilting posters,
and lived here when I was too young to know
that being a ballerina took resolve I didn't have.
I live here with the smell of permanent marker,
and a wastebasket stuffed full of tracing paper.
The drafting table's layered with scraps of an unfinished college,
vintage porno and comic books clean cut with an art scalpel:
radioactive bunnies and bulky heroes in string bikinis.
Smudged on the door frame, there's a degrowth chart
logging intervals of when and where I lost parts of myself.
In '08 I quit guitar. Later, I gave up shallow infatuations.
I'm less now. I don't believe in astrology or Jungian archetypes,
so I can't explain why I do laundry with my eyes closed,
why every fabric shrinks to tighten around me.
But what have I gained? Red keratosis pilaris spots –
a morose code recorded over my thighs and shoulders.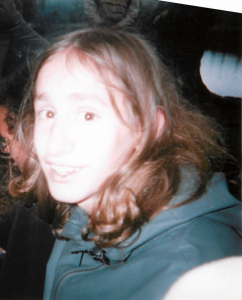 N. Page is a technical writing student and reader for The Fiddlehead magazine. Page has published or forthcoming work in Viator, Five2One, UNB's Journal of Student Writing, filling Station, Existere, and The City Series: Fredericton chapbook. In 2018, Page was a finalist for The Conium Review's Innovative Short Fiction Contest. You can find weird memes and Page's experimental poetry on Instagram at furtivesubversive.