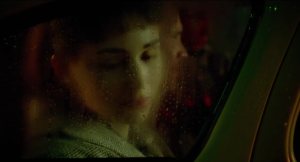 Reviewed by Michael Lyons
One of the most arresting exchanges in Patricia Highsmith's Carol (originally published as The Price of Salt under a pseudonym) is not with the titular love interest of protagonist Therese Belivet, but with Mrs. Ruby Robichek, a sweater saleswoman at a Manhattan department store, early on in the narrative. Therese aspires for a career designing theatre sets, but begins her life as a seasonal employee at Frankenberg's. She knows the job is dead-end—"The store was organized so much like a prison, it frightened her now and then to realize she was part of it," and her relationship with hapless bohemian-wannabe Richard is no better.
Mrs. Robichek is a foil to Therese's wide-eyed, introspective, self-absorbed youthfulness and the yet-unmet Carol Aird's cool, upper-class erudition. She's a worn-down shell of a woman with bunioned feet and a hobbled walk, saggy, exhausted, grotesque, old. A former dress-shop owner wrecked by illness and time. Therese visits her home one night for dinner, and Mrs. Robicheck has the nineteen-year-old try on a dress she made, a dress that enchants Therese. Then something passes between Mrs. Robichek and Therese.
Her mind was at a distant point, at a distant vortex that opened on the scene in the dimly lighted, terrifying room where the two seemed to stand in desperate combat. And at the point of the vortex where her mind was, she knew it was the hopelessness that terrified her and nothing else. It was the hopelessness of Mrs. Robichek's ailing body and her job at the store, of her stack of dresses in the trunk, of her ugliness, the hopelessness of which the end of her life was entirely composed. And the hopelessness of herself, of ever being the person she wanted to be and of doing the things that person would do.
Therese almost collapses, finding herself swaddled in an armchair, then watches in horror as Mrs. Robichek prepares for bed in the darkness. She flees into the night, back to her dead-end relationship and her dead-end job. Soon after, she meets Carol.
This scene, perhaps unsurprisingly, is completely skipped in the 2015 film adaptation of Highsmith's work. Indeed, among other book-to-film translations, it would be almost grotesque to imagine Mrs. Robichek among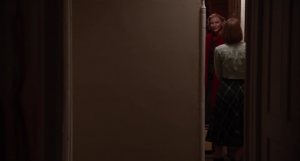 the visually lush, smoky, hazy, romantic world of the film. It'd be like a gruesome murder scene in the middle of a joyful wedding.
Patricia Highsmith started what would become The Price of Salt at the age of twenty-seven—not significantly older than Therese in the book. Like Therese, she shared an interaction with a glamorous upper-class woman while working seasonally in a department store, inspiring the story that was first published in 1952.
In the beginning of the book, Therese is a pining, introspective, lovesick, half-formed almost-adult. Coping with rearing by a neglectful mother, she throws herself into a relationship with a woman she can only catch in glimpses. Book Therese is an aspiring theatre set designer, not a person in the middle of the action, but the one sitting in the wings, building an artificial world around others. Film Therese, played by a wide-eyed Rooney Mara, is an aspiring photographer, the perfect profession for a cool, distant young woman who observes all but struggles to engage.
At a recent TIFF Books on Film screening of Carol, screenplay writer Phyllis Nagy explained that writing the character of Carol was "a joy and a gift because she doesn't exist, she's a brilliant shadow in the book. Which really works, because as a reader you can project your own image, even a visual image of Carol." While the book is set entirely inside the mind and experiences of brooding Therese, where Carol is more of an idea, the film takes liberties and wanders, catching snippets of Carol's life as she endeavours to divorce her brutish husband while attempting to retain custody of her daughter.
However, the film adaptation plays with this. Through the use of photography in the film— inspired by female street photographers of the forties and fifties, and the work of Saul Leiter who used windows and reflection heavily in his work—Therese is a constant mirror to her world and the people around her. Aside from photography as a framing device, the film has characters or even the audi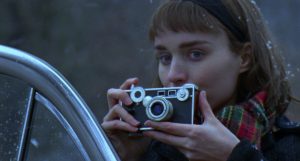 ence constantly peering through windows, or into mirrors, or with glass between them in some way. This helps capture the distance of Therese as she attempts to process the chaotic, destructive world around her and her turbulent relationship with Carol. Asked about her photography at one point in the film during her first visit to Carol's house, she says, "I've just been trying to… well, I have a friend who told me I should be more interested in humans."
"And how's that going?" Carol responds, actor Cate Blanchett giving her signature impish, twinkling smile.
There's an especially fantastic moment in the film that captures this quality. In a hotel room while they're travelling westward together, escaping briefly from the city, Carol makes up Therese's face in her own makeup and then holds a mirror in front of her, between the two of them. It's a small moment that would feel a little obvious without the framing devices, but it works because of them. They then apply perfume and Carol has Therese lean in and smell her neck, an exquisite, lingering, tense, agonizing moment.
Literature is dark, introspective and usually pessimistic while films are visually beautiful and romantic by necessity; the different between groping about the dark-blinded cavern of the mind and the bright, airy cathedral lit through stained glass that good cinema builds. Asked about translating one medium to the other, Nagy responded, "The challenge is to honour the tone, to me … plot is always the least important thing. Tone and intention."
The film is almost too beautiful and romantic, compared to Highsmith's obsessive, jealous, brooding text, but the visual framing of the film makes this beauty feel well earned. In the end, both film and text end up in the same extraordinary place: one of the only stories of love between two women of its time that, against all odds, ends happily.
Patricia Highsmith, Carol (Norton & Company, 2015). Paperback, 292pp., $19.50.
Michael Lyons (@queer_mikey) is a queer-identified writer, journalist, and game maker. He is an extensively published writer who co-pens History Boys, a bi-monthly column on lesser-known LGBT history. He has a Lovecraftian steampunk horror story coming out in an upcoming anthology titled Clockwork Cairo.