Sadie McCarney
I had to go and shear those craters in
my hair, locked in my bucolic boarding
school dorm room with sewing scissors
and an androgynous ache. I was fifteen.
The local "walk-ins welcome" didn't know
what to make of my head like the moon,
so they buzzed the whole thing except
a fringe that looked like Donald Duck's tail.
I was failing math. You were, too. One day
I looked up from all the inscrutable runes
of geometry to find your grin on my threshold,
boxes of bleach and blue Hot Topic hair dye
nearly alive in your vinyl-gloved hands. I was
up for almost anything, but since I bleached
a brown towel just as blonde as my hair, I let
you rub the blue dye in. You were used to locks
the hue of turfgrass, or purple-aquamarine, so
we didn't check the directions much, skipped
the Vaseline on my hairline and neck. Both
and one ear held your stain for a week.
I didn't peek until both our heads had dried.
But in that moment, our hair transcended:
we were no longer bad students at a good prep
school, but blue-heads, mermaids trapped
in a New England fishbowl. We were meant
for coral, downed ships, colossal undertow.
I wanted to stay, tread water, graduate. But
somehow, once blue-haired, we had to go.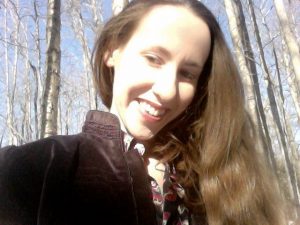 Sadie McCarney's work has appeared previously in Plenitude, Room, The Puritan, Prairie Fire, The Malahat Review, PANK, and Grain, as well as in The Best Canadian Poetry in English 2015. She lives in Charlottetown, PEI.