Sugar le Fae
I'm too many men's
maybe if their girlfriend
leaves them.
I look like a man.
By every metric, I am.
I never thought I wasn't,
but I'm not.
Everybody knows,
who talks to or watches me
walk or gesture.
Even in my boy clothes.
So, I'm genderqueer.
Because trans-feminine
with no desire to transition
is a mouthful.
And I want to feel small.
To be spooned,
or to spoon a man the way
a woman spoons a man
when he doesn't
know he wants her to.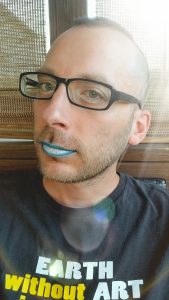 Sugar le Fae is a PhD candidate at Georgia State University. A prize-winning poet, activist, musician, photographer, and Radical Faerie, Sugar has taught English Composition and Literature for over a decade; served as the Social Media Director (2012) and Poetry Editor (2013) of PRISM International (UBC); and published dozens of poems and essays across North America.