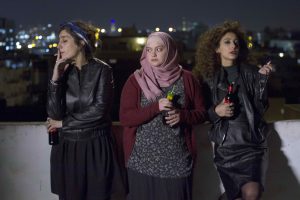 Review by Asam Ahmad
Written and directed by Maysaloun Hamoud, the film In Between is a daring and hilarious portrayal of the lives of three Palestinian women living in Tel Aviv. The film is remarkable for its deft weaving of light-hearted sentimentality with searing multi-layered explorations of the complexities of contemporary Arab life, while also offering  a rare glimpse into the lives of young Palestinian Arabs living inside Israel today.
We follow three women as they move through Tel Aviv: Salma, an aspiring DJ who works part-time in a kitchen; Laila, a smart criminal defence lawyer ready to fall in love; and their new roommate Nour, a devout Muslim who has just moved to the city to attend college. All three women have different values and lived experiences. Tensions between them bring levity into the plot. Salma is a lesbian and a raver who almost always has a joint in her hand. Laila almost never appears in a frame without a cigarette in her mouth and seems to have no family that she still considers kin, while Nour is devout in her religiosity and has convinced herself and her family that she is ready for marriage. The women tolerate each other's differences in values and this is not the primary source of conflict in this film (though that would also make a fascinating exploration). As Nour's fiancé gets a more honest glimpse into her life with her new roommates, it gradually becomes clear that the real conflict lies with the men (fiancés, lovers, fathers) in each of these women's lives. Sometimes the violence is physical and overt, and other times it is more subdued and psychological, but the running thread that forms the bonds of solidarity for these women is the intensity of the patriarchal violence that surrounds them.
I found the plot slightly overwrought but satisfying in the way Hamoud ties these different threads together. The best parts of the film arewhen we get to casually peer inside the day-to-day activities of these individuals, and the petty grievances and challenges they navigate as Palestinians living inside Israel. The film is at its best when it shows how these women survive even as there are slightly uncomfortable signs all around them that they are not welcome. While these Palestinians living inside Israel may not face the brunt of the occupation, Hamoud captures the day-to-day microaggressions that remind these women they are still outsiders even though they may have lived here their entire lives.
The focus of the film remains astutely on the challenges these women face from the men in their lives. Nour's fiancé is overtly devout and demands the same of Nour, becoming increasing suspicious of her life in this Tel Aviv apartment. Salma is not out to her parents, and the way that thread unravels is heartbreakingly realistic. Laila also falls in love but finds that her suitor is not comfortable with some aspects of her lifestyle. It is a both a rarity and a joy to witness the grace and humour with which these women persevere in the face of the obstacles continually placed in front of them.
In Between screened at Toronto Palestine Film Festival in September, 2017
 Maysaloun Hamoud, In Between (Bar Bahar), 1 hr 43 mins, 2016.