But how could it not, when you used the precise
alphanumeric sequence needed to land
your words in my inbox?
Not what you meant? Let's begin again.
Sarcasm arrives too easily when I'm nervous.
Yes, I am well. As in I am doing well. As in I remember
to steady myself with deep breathing when necessary.
I sometimes even look around in wonder
at the world I typically only stumble through. Most days
I am happy, light-dazed, giddy at my good fortune.
And I am content, if also
a little breathless at the idea
of your strong hands, at the thought of your fingers
carefully pressing out the letters of my name.
Almost an intimacy.
I couldn't be better
with being reminded there are some
intensities time and distance cannot cool.
And I couldn't be happier, knowing there are ways
we will reach for each other
even now.
…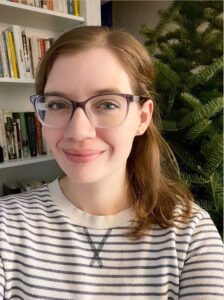 Pamela Mosher is a queer writer born and raised in a small village in Nova Scotia, who now lives in Ottawa with her wife and young children. Her writing has been published in journals such as The New Quarterly and Grain Magazine, and was recently included in Best Canadian Poetry 2021.