BY TREVOR CORKUM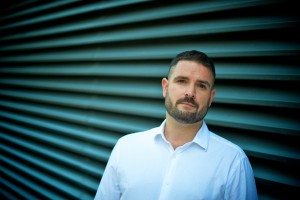 "We all had our own reasons for what we were about to do," says the eleventh-grade narrator in Shawn Syms's story "Get Brenda Foxworthy," one of the standout stories in his stellar debut collection, Nothing Looks Familiar. In a collection that skillfully mines the inner lives of the disenfranchised, the lonely, and the lustful, this type of astute self-reflection runs like a rich seam through the motivations and strategies of self-survival in a hard-knock world.
Many of Syms's compelling and complexly drawn characters are outsiders struggling to get somewhere—high, laid, out of town, out of love, or just into someplace better, somewhere a little bit further over the rainbow. We meet meth-smoking mothers, lonely meat packers, and horny senior citizens, each longing for some kind of momentary transcendence, some temporary relief from the tough trials of what it means to be alive. Yet his characters are not naive dreamers or flaky metaphors for seeing the glass half full. Rather, they're hard-eyed realists who wrestle with the hard facts of life but demonstrate, against the odds, a ballsy resilience that make it impossible to not root for their situations.
Take Wanda, the hardworking, meat-packing narrator of Syms's Journey Prize–nominated story "On the Line." Exhausted from long, bloody days in the factory, she nevertheless finds time for a late-evening dalliance with Makok, a married Sudanese worker from her shift. Hers is not a romantic attraction, but a practical, clear-eyed desire for companionship: "He turns, and our eyes meet. I lean towards him; we kiss. He pulls his bulky frame onto mine, and I welcome the pressure. We fuck one more time, fiercely and quickly. Before the alarm sounds again, we're done."
Syms is acutely aware of the ravages of a socioeconomic system that humiliates, demeans, and often robs the dignity of ordinary men and women like Wanda and Makok. Through a rich and diverse range of stories, Syms astutely demonstrates how gender, sexuality, class, and ability inform the ways we experience our lives—how we find or don't find partners, how we pay the bills, how we learn to lower or raise our expectations for what is even possible.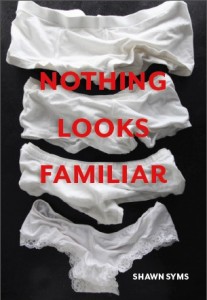 The author gives sex its proper due as a complicated, messy, sometimes joyful presence in the state of human affairs. Syms writes sex viscerally, incisively, yet always with deep compassion. A long female masturbation scene in "Taking Creative License" involves a glue stick and a range of intricate role-play scenarios. "Three Tuesdays from Now" explores a handsome gay man in a wheelchair hooking up for sex on Craigslist. For Syms, sex—and how we experience the pain, pleasure, and limits of the human body—becomes a rich metaphor for the scars, the fleeting rewards, and moments of grace and devastation visited upon our lives.
The collection is at its finest when exploring such vagaries of desire. One of the great strengths of the book is Syms's daring, his refusal to shy away from controversial, under-represented stories of love and attraction. In "The Eden Climber," one of the strongest stories in the collection, narrator Cassandra, an elderly resident of a seniors' nursing home, is horrified to learn of a physical relationship between her bedridden sister Ruthann (also a resident) and a young male orderly. In "Four Pills," the jocular friendship between two marginalized young men who score drugs in Allan Gardens is turned upside down by a surprise conclusion to an evening of hard partying. In a Shawn Syms story, what appears on the surface can shift and turn deftly, revealing a complicated queerness at the core of desire and challenging at every turn what we think we know about the human heart.
A few of the stories might have benefited from another half page, a few more beats. In "Snap," for example—a story that explores the complicated emotional triangle between Jake, a social services worker, his partner Lara, and Steve, a member of Jake's sex-offender support group—the last few lines are emotionally flat. Similarly, the concluding lines to "Get Brenda Foxworthy" feel limp compared to the rich tension that propels the story to the finish line.
On the whole, these are minor quibbles. Nothing Looks Familiar is a skilled, generous, and riveting collection that marks the debut of an exciting new voice in Canadian literature.
Shawn Syms, Nothing Looks Familiar (Arsenal Pulp Press, 2014). Paperback, 182 pp., $15.95
Trevor Corkum's fiction and non-fiction have been nominated for the Journey Prize, Pushcart Prize, and a Western Magazine Award. He's just completed a collection of short fiction and is diligently at work on a novel set in North End Halifax. Find him online at trevorcorkum.com or follow him on Twitter — @trevcorkum.