"The one you would choose: Were you led then by him?"
"What longing, O Yaar, is controlled in real time?"
—Agha Shahid Ali (Ghazal)
i dreamt of tulips today
they opened their mouths
in a yawn the kind that engulfs the sun
in its vacuous mouth
like a little hurricane;
the sort of yawn that could swallow an entire
morning away–a calendar day buried under
sooty ashtrays covered in last night's
debauchery and the perfume of lovers
who come and go as quickly as the
tulips yawn.
i dreamt of tulips today and
think of Agha Shahid Ali's poetry
in between the clouds of fruit-flavoured smoke
that keep me company as i try to
decipher these dreams in real time.
i hop from Blake's flower-riddled landscapes
to the familiarity of ghazals,
all while dreaming
about a dream
about tulips yawning.
i dreamt of tulips today and now i
think they didn't really mean anything
at all; i find there's a surprising amount of comfort
in knowing this and still being able to love them all the same—
perhaps the tulips remind me of someone,
an echo of a yearning many autumns ago;
or maybe they remind me of Srinagar in the summer
painted in decadence's saffron colour
even as the war bathes it
i don't know what to make of the tulips,
i confess; (should dreams even trouble you this much?)
i wrap up the dream dissection and carry on
with tulip-coloured thoughts
colouring my mind through the day:
this longing, o yaar, is controlled in no time.
…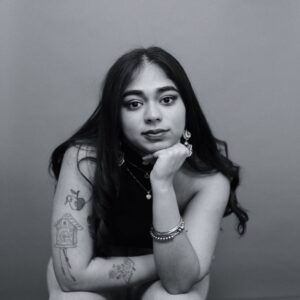 Shanai Tanwar (she/her) is an undergraduate student majoring in psychology and English literature at the University of British Columbia. Born to Indian parents and raised in Dubai, she interned with Harper's Bazaar Arabia and Cosmopolitan Middle East before working as an Editorial Assistant for Canadian Literature, UBC's scholarly journal. When she isn't petting dogs around campus, you can find her reading Victorian fiction or writing for The Ubyssey.