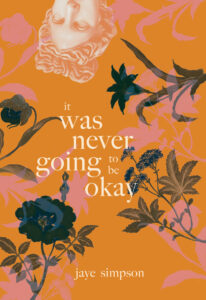 Reviewed by Namitha Rathinappillai
jaye simpson, it was never going to be okay (Nightwood Editions, 2020), 112 pp., $18.95.
Shortlisted for the Dayne Ogilvie Prize for LGBTQ2S+ Emerging Writers, and the Indigenous Voices Award (2021).
In jaye simpson's debut book, it was never going to be okay, the Oji-Cree Saulteaux writer grounds explores themes such as sexuality as a trans woman, Indigeneity, and navigating familial relationships amidst colonization and through the foster-care system. There are also poems as odes to songs by artists like by Florence + the Machine and Amy Winehouse, which adds to the lyrical nature of simpson's work. It allows the reader to see the actors that influence simpson's writing and makes us privy to the ways simpson draws from the world around them. Adorned in a pulchritudinous cover designed by Angela Yee, simpson's book captures the reader's attention before even being opened. Within the book, simpson is intentional about the space they use. Each poem is carefully placed on the page, using indents, line breaks, and visual placements of the words to create a recognizable image. In "haunting (a poem in six parts)," the fifth part, which is titled "locks, stopping & libraries," speaks about the ways the speaker of the poem loses faith in the futile attempts to connect with someone who is only referred to as "her," and finds solace in books. The poem begins with the line, "I stopped reaching out when she locked the door to my bedroom," and the reader soon sees how simpson makes a key out of the words of the poem.
As a spoken-word performer, simpson's ability to be deliberate about the way their words sound, both when spoken aloud and when read, is a powerful tactic. When a poet cannot rely on vocal intonation or pauses, the skill of conveying this on the page by using italics and line breaks becomes a very necessary skill—one that simpson appears to have mastered. There is meaning in the space left between words. There is nothing left uncalculated in this piece of art. It is much like a tasting at a small-plates restaurant: a set menu where you trust the author to take you on the journey and leave you satisfied.
Several of simpson's poems deal with colonialism in the foster-care system. Consider their poem, "teeth & sharp bones (a dialogue)," in which the repeating stanza is: "some of us had lived long enough / to think that we had made it out." This poem is rich with rightful anger against the vilification of Indigenous children who have been through the foster-care system. simpson writes to the child-welfare system, which "gave us to white women wolves / & got mad at us for having teeth / & sharp bones." The imagery of a ravenous foster parent who abuses the system for income is potent here. simpson continues this motif and ends the poem with: "you call us dangerous / when you took / away all our weapons / except our teeth & bones / & now you're upset / your flesh got caught / on the sharp edges." Resilience and resistance against a vicious and oppressive system drip through every line of this powerful piece.
The systemic issues of the foster-care system carry into and intersect with many other poems, such as "boy." A recurring line in the poem is: "the blunt b, the hollowness of the o, the blade of y." This poem manages to tell an entire story in a few pages and uses visceral images that evoke emotion. One of these images is "i am crying at the hairdresser's as my sisters are treated like goddesses, / preened while i am pruned." We are a visitor to the trip down memory lane that simpson engages in. The way they hold the reader's hand amidst their telling of deep trauma does a great service to the reader, while also forcing the reader to engage with the difficult reality of the ways various institutions work together to oppress Indigenous people and their intersecting identities.
In their poem "this woman //nookum," simpson speaks about the disproportionate number of two-spirit cousins of theirs who have passed away. They refer to this constant state of burial as "hanging their queer bodies / like a slaughtered coyote on a post / as to say, do not come around here no more." This succinct and jolting image illustrates the reality of the experiences of two-spirit and other queer Indigenous people that simpson describes so effectively. They write both images of the powerless and the powerful in their depictions of queerness in this book. In a poem titled "beast," simpson speaks about the experience of being a trans woman having sex with a cis man: "embarrassed by his release (…) who is man to call me beast? (…) man forgets he is beast also." simpson regains control of the narrative when they claim their rightful power. They do a remarkable job at depicting the range in perspectives of queer identity and experience and writing about this, and their other experiences and identities, with grace and tact. it was never going to be okay is a beautiful book, both inside and out.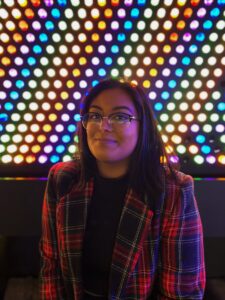 Namitha Rathinappillai (she/they) is a Tamil-Canadian spoken word poet, artist, and writer who has entered the poetry community in 2017. She is based in Ottawa, and is the first female and youngest director of Ottawa's Urban Legends Poetry Collective (ULPC). They are a two-time Canadian Festival of Spoken Word (CFSW) team member with ULPC, and they published their first chapbook titled Dirty Laundry with Battleaxe Press in November of 2018. In 2019, they won the RBC Youth Ottawa Spirit of the Capital Award for Arts and Culture. You can find more at namitharathinappillai.com.