Read to me in tongues aflame in blame, I asked the past.
My prayers burnt to accusations, I cannot get past the past.
Killing, not violence if you believe a killer rearranges a body's time.
Rubble of muscle, not soul. All have killed before—so vast the past.
I bathed my shadow in a rainstorm, begged lightning, sowed
irises on my own gravestone, blossomed no bomb to blast the past.
A cell in your liver can be your executioner. What asylum exists
in temples, castles? Monks nor kings could outlast the past.
Be a sycamore with me, its bark, the dirt it grows from, the dark.
Let tomorrow come—write until you have surpassed the past.
Rest your ritual of surfing the ocean alone.
Let go, death is slow, oh so fast the past.
Shannan, the aging wheel will grind us like mosquitoes amid nails.
You thought yourself a prophet, but you have forecast the past.
…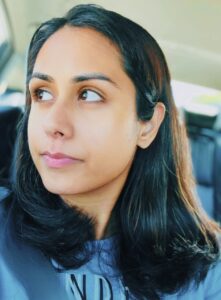 Shannan Mann is an Indian-Canadian poet. A recent winner of the Peatsmoke Summer Contest, she was also a finalist for the 2022 Rattle Poetry Prize and 2021 Frontier Award for New Poets. Her poems have appeared or are forthcoming in Rattle, Frontier, Humber Literary Review, Oh Reader, and elsewhere.