you pull out your day book &
inscribe a stellarium on my belly.
posed with your phone like a byzantine saint
i tilt the word of your miracles to better light.
i'm drawing my gratitude list in stars, you said
like you do. do you mind if i balance this here?
i stretch exalted, the breathing altar on which
you dedicate offerings to your own happiness.
constellate joy, map satisfaction on
the long-drawn lectern of my torso.
eyes shut: the fine scratch of pen to paper
your journal kicks in my womb like a fetus.
venus in taurus in fifth house: my own chart
spells what exultant parent i might become.
as your dreams gestate i contemplate
the children i don't want; the children i do.
we are in sextile, in trine—we both know
rcw49 is the most beautiful thing in this galaxy.
thousands to nurse before i can claim her
but your twenty-three stars are a start.
…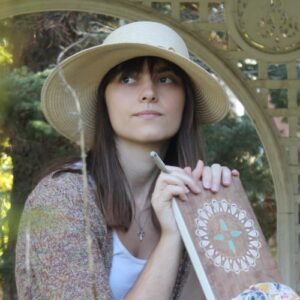 Sienna Tristen (they/them) is an author, poet, and literary organizer living in Treaty 3 territory who explores queer platonic partnership, nonhuman beings, and mythmaking in their work. Their award-winning fantasy novel The Heretic's Guide to Homecoming came out from The Shale Project in 2018; find more of their poetry in Augur Magazine.