Sara Bess
I am the only one here
with all my fingers.
My boss is impressed with this
and the fact that I have never
shot myself
with a nail gun, though I am afraid
of the loud noises of the air compressor
of the dust and the splinters. I am careful
with my hands.
By Friday my mucus is dark
with blood and sawdust and I
am coughing worse than usual,
but I am very precise. My careful hands—
with all their fingers
all their ragged ends—are good
in small spaces. I have lived
my whole life in spaces like these.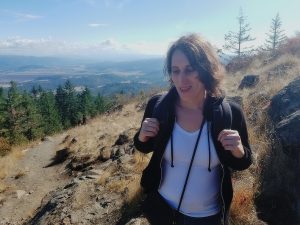 Sara Bess grew up in rural southeast Missouri but she doesn't live there anymore. She was a 2017 Lambda Literary Poetry Fellow. Her poetry has appeared in The Wanderer, Matrix, and elsewhere. She released her micro-chapbook Aerial Roots in 2017.