terra nullius: the inverted disposition of things
in ordinary flux, logging roads and peri-urban
lawn ornaments replicated on the clouds' nuclear
petals, I watch the patterns on her dress orbit my
eyes, my face, my mouth, overlap with auxiliary
species of our scape, a cosmic bodice, feminised
and sweating, she whispers where do we go from here
and we laugh. nearby: the night-stained plows on
silent hills, cropped to surveillance grids where
the diasporic tendons of our water are certified
only as incommensurable parts, split and waxed
and appropriated for the cosmetics of a multi-
cultural nation where one cannot be too much of
one thing unless that thing is a consumer.
sonar blink of microcontinents, note to self—
her hair, fingers tender in lightdrift, lunar flecks
of fabric-wet love, the rim of her neck, its lift, its
curve and buckle, its bend and heave, endemic, we
resume consumption
in this panoptical court.
…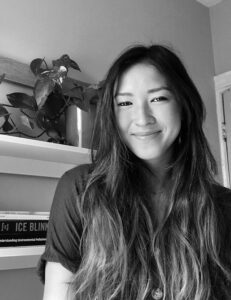 Rhiannon Ng Cheng Hin (she/her) is a Scottish-Mauritian writer currently living on the traditional territory of the Algonquin Anishinaabe Nation (Ottawa Valley). She was the recipient of the 2020 Writers' Trust Mentorship in Poetry, and her writing has appeared in Arc Poetry Magazine, Grain, PRISM international, The Malahat Review, Gutter, and elsewhere. Rhiannon is currently a graduate student at the University of Ottawa. Her debut poetry collection is forthcoming with Coach House Books in 2022.