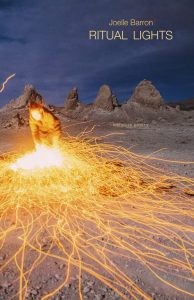 Reviewed by Annick MacAskill
Joelle Barron's poetry collection Ritual Lights is an impressive and engaging debut that centres experiences of sexual assault, loss, love, and parenthood in a lyric narrative sequence.
The book opens with a series of poems that explore sexual violence and family dynamics through extended reference to Greco-Roman mythology. Barron uses the figures of Persephone, her mother, Demeter, and Hades, god of the underworld and Persephone's abductor, to map out a constellation of the speaker's own relationships. The author's interaction with this myth reminds me of Sue Goyette's most recent title, Penelope in the First Person (Gaspereau Press, 2017), where the story of the Odyssey is retold through the eyes of its protagonist's wife. While Barron seems to take inspiration directly from the American poet Louise Glück, whose poem "Persephone the Wanderer" provides the epigraph for Barron's "Little Girl/Chaos Bringer", their register is closer to that of Goyette's Penelope, rooted in the colloquial language of the contemporary world, while Glück's poem is more lyrically ethereal.
The opening lines of "Little Girl/Chaos Bringer" come as a direct response to Glück's version:
Louise's poem, the mother
chops her daughter
into chuck. In mythology,
as in popular culture,
mothers are often worse
than rapists. Sometimes I feel
like a bad mother because I don't pretend
to possess you.
The speaker is direct, addressing their daughter and blurring the archetypal boundaries between woman-as-daughter (Persephone)—the role the speaker occupies elsewhere—and woman-as-mother (Demeter). In this, Barron highlights the inevitability of sexual assault in a patriarchal culture as an experience not unique to any one generation.
In "My Hades", the god of the underworld becomes a stand-in for four men from the speaker's past, who are described over the poem's stanzas:
Hades no. 3: walked into hell
with him. A medieval-themed
tavern, pretending I liked men,
their lagers. Tried to fight
this time, chanted, No, writhed
like Delphi's oracle,
then left my body (it's a gift).
After, he performed
an autobiographical rap
for me. I have to laugh
or I'll die.
In addition to depicting the trauma of rape, this stanza alludes to a system of compulsory heterosexuality. Later in the book, "Not Puddles" more directly addresses the speaker's struggle with labels and categories around sexuality and gender:
Not queer enough, too stealth. Not
straight at-fucking-all.
Not the white-gay-men-next-door.
Not men, not women. Not the guy
with your face, fuzzy. Not the girl with my skirt,
tight.
Further along, the anaphoric repetition of "not" leads into a rebellious declaration of boundaries and the speaker's reclaiming of their identity:
Not
giving the drunk fuckhead
at the party a roadmap
of our junk. Not explaining why
I wouldn't rather fuck a real guy
with a Disappointment Guaranteed
bloodflow dick. Why I'd rather
fucking die. Not letting you get beat
up in the bathroom. I have bear
mace in my bag.
As in "My Hades", here the poet uses humour to undermine the misogyny and homophobia the speaker faces.
Ritual Lights explores another narrative of bodily trauma and healing in the speaker's experience of pregnancy loss, first alluded to in "Universal Miscarriage". Later, in "Pat & Vanna," the poet finds another famous counterpart for this experience, not in a mythological figure, but in Vanna White, co-host with Pat Sajak of Wheel of Fortune:
Announced
her first pregnancy in '92
with a puzzle, solved: VANNA'S
PREGNANT, her tap gentle
on the lights, his eyes wet. She
miscarried before the episode
aired, producers thank god-ing.
He laid a hand on hers under
hot dressing room lights. Never
like that with them; son of Polish
immigrants and her, half Puerto
Rican […]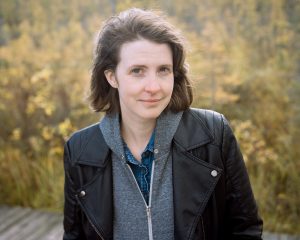 In the wake of loss, a moment of human connection suggests a path to healing. Like the Vanna White depicted in this poem, the speaker will find support in their relationships with family, friends, and a new lover.
The collection's poems on trauma are offset by pieces like "Pat & Vanna", which remain hopeful. In this context, the book's title can be understood as referencing the everyday practices that survivors access as a way to heal. Notably, Barron's poem "Five Spells" echoes Amber Dawn's "Sei Turni (6 Spells for #Canlit)", a poem that appeared as part of Room Magazine's 2016 No Comment project, which featured writing on the theme of sexual assault. Barron's "Five Spells" is written in the same spirit as Dawn's poem; acting almost as a programmatic piece for the book, its five parts present different steps or spells, following the speaker as survivor, lover, and parent, and connecting them to a larger network of survivors:
Ask before every touch. May I kiss you? May I wash
you? Make no holy. Untangle the forced compliance
of your own childhood, where you learned your place
as a sacrifice. Make tea with stinging nettle,
raspberry leaf. Your ancestry is thick with witches,
stirring turmeric into milk. May I kiss you? May I hold you
like this? Hand her no like a blade.
("3. Incant Consent Over Your Daughter's Body")
Here, Ritual Lights reminds me of Leah Horlick's For Your Own Good (Caitlin Press, 2015), which followed an abusive relationship between two queer women. Just as Barron references the occult in their speaker's journey of healing, Horlick's speaker looks to love and magic in the wake of abuse. While it seems pat to call poets like Horlick and Barron "brave", their collections are impressive and noteworthy for their unflinching portrayals of survival and queer identity.
In reading Ritual Lights, I appreciated Barron's willingness to look at difficult subjects like sexual assault, pregnancy loss, and homophobia, as well as the steady, unflinching voice that runs throughout the collection. The speaker assumes a certain authority and strength, though they also leave room for tenderness and humour. Barron is a poet to watch out for, and I am keen to see what they do next.
Joelle Barron, Ritual Lights (Goose Lane Editions, 2018). Paperback, 85pp., $19.95
Annick MacAskill's debut collection No Meeting Without Body was published by Gaspereau Press in the spring of 2018. Her poems have appeared in journals such as the Literary Review of Canada, Grain, Prism, Room, The Fiddlehead, Arc, and Lemon Hound. She has been selected as a finalist for prizes including the CBC Canada Writes Poetry Prize, The Fiddlehead's Ralph Gustafson Prize, and a Pushcart Prize. Originally from Ontario, she currently lives and writes in Halifax.