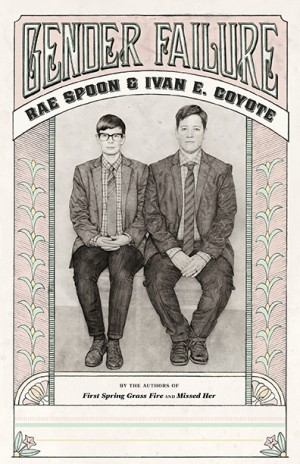 Ivan E. Coyote and Rae Spoon, Gender Failure
(Arsenal Pulp Press, 2014.) Paperback, 256 pp., $17.95
Reviewed by Rachna Contractor
Based on their live multimedia show which toured across Canada, the US and UK, Gender Failure is a collection of work about rejecting the gender binary and retiring gender altogether. Both Spoon and Coyote delve deep to share their emotional, mental and physical journeys to gender failure, forcing the reader to examine their own ideas about the binary and how flawed it is.
Spoon contexualizes their personal struggles with god, body image, fatphobia and growing up in an abusive household in relation to struggles with gender. In My Body is a Spaceship they write, "The less support I had as a trans person, the more the urge to change my body would return," making the experience that much more relatable.
Coyote writes about their relationship with their chest and ultimately chest surgery, their sweetheart and other personal interactions they have had along the way. Coyote's more poignant story-telling happens when they write about the people in their life, most heartwarming is Rosie a transwoman they met at age 19 in Vancouver's West End.
Spoon is a musician, Coyote a writer. In the five years they have worked together, they have encouraged each other to try new performance styles; Coyote has started playing music and Spoon tells more stories on stage. The show was a collaboration however each wrote their pieces for the book independently. A book rarely captures the dynamism of a live show, but the emotions from sadness to laughter are evoked in the book. Both Spoon and Coyote have different approaches to writing which complement each other. This variety, along with the combination of essays, stories, images, hand-written lyrics and even a 'Gender Identity Interview for Adults (F to M)' preserves the texture of a multimedia show.
Gender Failure is a must-read; it is a non-academic companion for anyone who affirms the gender binary, anyone questioning the gender binary and those smashing it too. Sending the reader through a range of emotions this book is an uncomplicated journey through the challenges and joys of choosing to live with courage and purpose, forcing one to ask questions, re-think norms and self-reflect through the gender spectrum.
Rachna Contractor is a meat slicer and vegetable dicer by day. At night she writes about culture and community.