Larissa Lai, The Tiger Flu (Arsenal Pulp Press, 2018), 334 pp., $19.95.
Winner of the 2019 Lambda Literary Award for Lesbian Fiction, Larissa Lai's novel The Tiger Flu invites us into a lyrical world that melds seamlessly with her rendering of place, telling a much-needed story while provoking a discussion around race, gender, sexuality and futurity. Using speculative fiction as a lens to imagine possible futures, Lai warns us about where we could be heading through characters who are nuanced, multi-faceted, raw, and human.
Set in warring areas of what used to be Vancouver, each area, or Ring, has its own culture existing separate from the other. Though the book takes the reader through all of the Rings, the thrust of the narrative surrounds two characters: Kora Ko, a fifteen-year-old girl from the First Quarantined Ring called Saltwater Flats; and Kirilow Groundsel, whose humanoid race can regenerate limbs, starfish like, in the Fourth Quarantined Ring, Grist Village. Each chapter weaves back and forth between the Rings, and Lai signals these shifts by employing two different voices (much like monologues), different word choices, intonations, references to cultural, mythical and pop culture, even shifts in the use of poetic language versus street slang.
Lai's ability to imagine alternate realities is akin to sci-fi writers like Ursula K. Le Guin. Her creation of multi-layered, female-identifying protagonists is so well crafted that at times the prose reads like memoir with its first-person accounts of a dying planet. The dystopia she proposes is visceral in its description, a world where knowledge of the past is slowly fading, and in which men are slowly dying from an HIV-like virus known as the Tiger Flu. Lai's characters struggle with themselves and each other in tender, yet violent, ways. They are all trying to survive the best ways they can, given their circumstances.
There is much to love about the book. Speculative fiction writing envisions our possible futures, and if we can imagine our future, no matter how complex it might be, we are surviving and can survive whatever is coming. The Tiger Flu imagines Earth post-oil, in an apocalyptic potential future which acts a metaphor to speak about our world right now. Lai does this beautifully, interweaving notions of race, gender and climate crisis to propose that we must work together in order to live or we will die, and that even if we work together, a lot of people will likely not survive and we will have to collectively navigate that grief.
A fierce and refreshingly welcome protagonist of colour, Kora is fearless and guileless in equal measure. Lai continuously reminds us that she is in that space between childhood and womanhood, forced to be an adult before her time. In one scene, we see that Kora isn't afraid to pull a computer-chip-like filigree scale out of the sand, use "her spit and the corner of her dress" to clean it and then insert it into her brain, before chucking another away since "she no longer needs it… because her brain remembers most of it anyway." In another, she girlishly speaks to a goat as if it were her one and only friend, leaning in to "plant a kiss on the goat's wet forehead."
Conversely, Kirilow Groundsel's life is rooted in the lesbian separatist commune, Grist Village, on the outskirts of the Quarantined Rings. This society is steeped in nature worship and dependent on the proliferation of "starfish." Kirilow is the lover of Starfish Peristrophe Halliana. This is a world of nature and prayer, of community and belonging, in stark contrast to Kora's, one of urban decay and dwindling food supplies. Lai aims to make a linguistic distinction between the two societies, with Kirilow speaking in first person, at times invoking Village chants and prayers:
Our Mother of bread and roses / Our Mother of dirt / Our Mother of loaves and fishes / Our Mother of love / Please keep Peristrophe Halliana in stable heath / Until the salt flu passes / Bless and water / All the sisters of the Grist / In their meagre variety / In the guise of the good guys / Now more than ever / A slice of forever.
The poetics of the language and the continual deference to the Mother proposes an alternate mode of living, one where matriarchy, collectivity, and the passing down of ancestral knowledge saves Grist Village because its inhabitants live in accordance with nature. The rites and rituals of the Sisters Grist are crafted with precision, and Lai's ability to imagine worlds is done with cultural and societal nuance, while also revealing the inner lives of their characters, as in Le Guin's The Left Hand of Darkness.
Formally, some readers might crave prose with a slightly finer sheen. Alliteration can be powerfully repetitive with the right pacing, though for this reader the alliteration in The Tiger Flu tended to interrupt the flow. Similarly distracting was the word "tendril" inserting itself into the verbiage one too many times. But with writing as deft and poetic and Lai's, these were just thorny bits among smooth edges.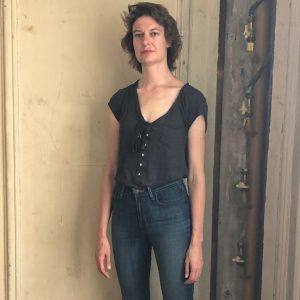 Tanya Marquardt is a writer and performer, whose book, Stray: Memoir of a Runaway, was published by Little A and named a 2018 Best Queer History & Bio in The Advocate. Her play, Transmission, was published in the Canadian Theatre Review, and Some Must Watch While Some Must Sleep, Tanya's play about being a sleep talker, was the subject of an NPR Invisibilia podcast. She received her BFA in Theatre at Simon Fraser University, a Certificate of Dance at MainDance, and an MFA in Creative Writing at Hunter College. Tanya lives and writes in Lenapehoking (Brooklyn, NY) and on the unceded land of the xʷməθkʷəy̓əm, Səl̓ílwətaʔ, and Skwxwú7mesh Nations (Vancouver, BC).
Photo Credit: David B. Smith