my parents die in.
I do not pray
to the sun before it buries s-
in the pane of my apartment window
then leaks and pools over the pavement sky.
Rain traffics my apartment window
and dries like vitreous cells, like siren prayers
and the river of cars stops. Dies.
Sin slows, stops, on the kneeler of dry pavement
sky, the door, opens. Light leaves the stained glass
every night I do not pray
to the pavement sky.
I turn on headlights and wind
through eyelash glare. There's a cop on the side of the road,
dunked in sleep in the dewy lights.
My cop kneels, prays to the blue smoke,
the cloud-smoke, the rain-smoke, the dry road.
And his buttons are on backwards,
and he is dressed all in black,
and he's sleeping in my mind.
…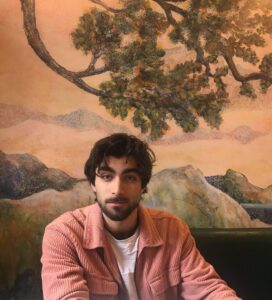 Tosh Sherkat studies poetry and fiction at UVic. From Nelson, BC, Sinixt and Ktunaxa territory, Tosh writes about contemplative thought in the mountains, race as a dark-skinned settler, and reforming masculinity. His publications include: This Side of West journal for poetry and CNF, and poetry in EVENT.