Isabella Wang
It's been weeks without a poem
and you wonder how
you are still getting invited to readings.
Haven't they figured you out by now?
You bring the same year-old poems
and read until words that hurt
like the thorns of a blackberry
bush lose meaning.
Outside, sunflowers bobble upward
in advance. Wasps burrow inside
the flowering pods of figs that blossom
and soften in your neighbour's yard.
After days of eat and sleep,
sleep and eat, repeat—
you learn there are things
you can't numb away
and everything else fades.
Contents of late passing days you can't recall
except waking at 2 a.m. each night
to the chortle of crickets through sealed screens,
low hymn of mosquito melody,
the mild itch lining your arms and buttocks
spreading like wildfire
in the smoky haze. The hue of the moon
turned bright red as the blood
you coughed from chugging liters
of sour kombucha that doesn't suppress
but stings like vodka.
Past the seawall, there are geese
riding waves under skies
that have turned the colour of the sea to muck
though it's not yet Halloween.
It's been weeks without rain.
The heirloom cherry tomatoes in your
garden burst and plummet
like dead mosquitos against window ledge
in this summer more bountiful
than any you can harvest
as lettuce leaves wilt, gnawed
by buzzing insect life: colonies of ants,
a bottle fly.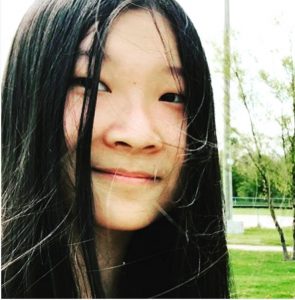 Isabella Wang is a young, emerging Chinese-Canadian writer from Vancouver, B.C. At 18, she is the youngest two-time finalist, shortlisted for The New Quarterly's Edna Staebler Essay Contest. Her poetry is published in Room Magazine, The /tEmz/ Review, Train Journal, and Looseleaf Magazine, and she holds a Pushcart Prize nomination for poetry. Her essays are published in carte blanche and Invisible Blog, and forthcoming in The New Quarterly. She is studying English at SFU, co-organizing for the Dead Poets Reading series, serving as the youth advocate for the Federation of BC Writers, working with Books on the Radio, and interning at Room.