Maggie Burton
Through hinged-open double hung
windows, the house winked at us,
saw us holding hands when no one was allowed to see.
Keeping our secrets, they kept out nothing else.
The wind knew no limits. Would've been easy,
you supposed, to figure out insulation,
to heat tall ceilings, even back then. Why didn't they?
Women could've gathered up all the scrap fabric in town
and stuffed it, savouring
the last day of a coat of many colours
before giving it to the house's insides.
But it would've eaten it up,
hungry for nothing but never full.
I feel full, I said. You said, of what?
My hand, full of yours.
We coast along the shore, I float
like it's no big deal at all.
It's nice to be from somewhere like this, you said,
as the house watched us go
where no one knows us.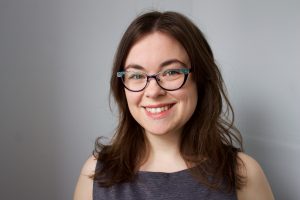 Originally from Brigus, Newfoundland and Labrador, Maggie Burton currently lives in St. John's with her two children, where she works as a musician, city councillor, and poet. Burton holds a Bachelor of Music degree from MUN where she studied music history and violin. Most recently, her poems have been published in Riddle Fence, Grain and Newfoundland Quarterly Online. She is the recipient of a Newfoundland and Labrador Arts and Letters Award for poetry and the 2016 Riddle Fence poetry prize.