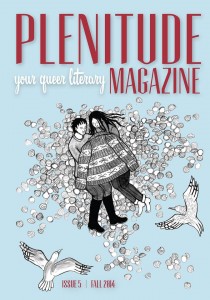 Hot off the press! For digital editions, subscribe here. You can also subscribe to receive Issue 4 & Issue 5 as digital editions.
Medieval same-sex weddings, chaperoned dates with Dad, poems to confront domestic abuse in queer relationships, and why Jeanette Winterson is dangerous!
Includes brand new work from Ashley Little, Alan Woo, Esther McPhee, Brett Josef Grubisic, Joan Dempsey, Laura Grothaus, Leah Horlick, Llew Forestell, ME Girard, Ron Schafrick and Vincent Page.
PLUS — the beautiful cover image and graphic narrative from Kara Sievewright!