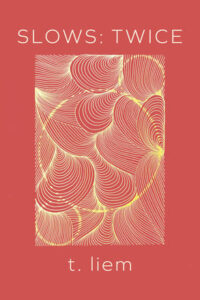 Reviewed by Madelaine Caritas Longman
T. Liem, Slows: Twice (Coach House Books, 2023), 96pp., $23.95.
"[I]f you think an apocalypse // will eliminate the wealth gap, let us hold together the / premonition it will not," reads a phrase from the poem "In Response to Feeling Alone; Or, Before and After," in T. Liem's new collection Slows: Twice. It's a moment exemplary of the collection: these poems' persistent concerns with economic and social disquiet; their eloquence paired with disarming directness; their rejection of easy answers, even the easy answer of catastrophe; their insistence on an us, or rather, the necessity of imagining one.
As Slows quietly yet adamantly reckons with legacies of capitalism, colonialism, racialization, and heteropatriarchy, a palpable insistence on community and humanity underlies the text: these poems recognize how, as wounded people in a wounded world, our lives depend upon care for one another. How, in order to live differently, we must imagine differently, and vice versa.
Formally, the central conceit of the text is mirroring. The first half of the book comprises nineteen pieces, which the second half then rewrites in reverse order–a rewrite of the first poem closes the collection, a rewrite of the second appears second-to-last, and so on. Rewrites range from identical but inverted poems (in "Slow Mirror," the reader must either mentally flip or physically hold up backwards-printed letters a mirror) to new pieces with recontextualized motifs. Conceptually as well as lyrically rich, the collection has much to offer readers with both experimental and more straightforwardly "personal" poetic tastes. In "There Are No Actual Monsters in this Poem I Hope," the speaker watches a childhood love crash a bicycle, chin injured by pavement beneath a wide sky. Meditating on desire, shame, and language, the speaker recalls "the time we kissed as the first sign // of something that might burst open / if never spoken," a queer recognition pulsing with pain and hope. The poem's double favors looser associations, though its cerebral considerations remain deeply embodied:
Again is my favourite demand
Something opens when I burst

into time Lips pressed lips
I'd be lying if I said I wasn't

trying to pull us through pain
that defies the syntactic laws of earlier and later

("There Were No Actual Poets in this Poem I Hope," 56-57)
As heady concepts of syntax and temporality make frequent appearances, mirroring serves a welcome counterbalance, grounding the collection in repeated touchstones. In the above poem, musings on desire are tied back to earth by the return of a directly addressed second person, "You saying I love / pointing at the sunset with your chin" (57). As the past bleeds back into the present, we feel the full emotional impact of how much the speaker has passed through to enter into and share this moment.
For those struggling with dissociation or alienation, Slows offers a welcome balm, rejecting platitudes in favor of sitting with unease. "I wasn't awake in my life," the speaker worries or confesses ("I Want to Live Here Where Nothing Coheres," 9). One might say how to be awake is the book's central question: how to tend to ourselves and each other in a neoliberal landscape where "Tender is another word for money. Money another for time" ("Consider Vice Versa," 60). When content writers are paid by the word and one's very thoughts become company property, how can a poem be more than a product? What does it mean to pay attention when even attention is something to pay?
Rather than providing answers, Slows is a record of repeated inquiry–asking and echoing, asking again. Remarkably upfront in descriptions of slaughterhouse cities and years-long depressive lows that "whisper blame from bone to bone" ("A Thousand Twangling Instruments," 19), even more remarkable about the collection is its gentleness. Whether chopping onions with a partner to the hum of a refrigerator or eating rou song buns with an uncle in a Jogjakarta mall, Slows is charged with attention born of taking nothing for granted–especially not each other. In a global consumerist culture where time is money and people are products, Slows is proof that to write of love and care must not be mistaken for naivete: "if one more person tells me // the country of my father's birth is cheap / I will lose it" (20). To be reduced to commodity is to lose more than one's temper–it is to lose countries, stories, families, ourselves, each other.
Slows counters the flattening of emotion and identity by granting space to contradiction: "I did not feel joyful. I felt joyful" ("Even Earlier Today is Past," 28). Possessing a rare ability to dwell with ambivalence, Liem's poems are at once bracing and healing in their honesty and nuance. Resisting tidy resolution, poems instead approach identity as a living language, asserting the possibility of self-love amidst uncertainty: "We are often filled with ellipses and reversals and we love them in time too" ("Consider Vice Versa," 60). Speaking back to assumptions that to be of mixed heritage is to be "halved," poems honour the connections and complexities in the speakers' relationships to Alberta, to Indonesia, to family members, and to identity itself, striving "to link arms with some future / in which I am more than half myself" ("On the Last Days of the Year of the Ox," 73).
True to its name, Slows: Twice rewards rereading, offering meanings that accumulate and shift with duration and reiteration. Moments blaze with unexpected beauty: dipping bread in spiced yogurt, garlic cloves in purple mesh, the "cold slow gloam" of coins in a shopping mall fountain ("Intellectual Property as a Result," 66). Calling for a re-evaluation of what and who we deem worthy of noticing, Slows reveals the practice of attention as a practice of constantly reinventing the forms attention can take. Poems tremble with the vulnerable intensity of holding a gaze–of recognizing the stranger in oneself, the self in a stranger, and not looking away. It is not that there are no gaps between us. It is that the gaps must also be held.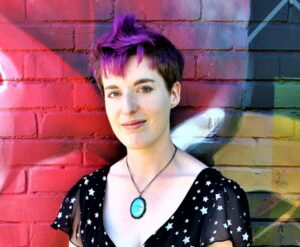 Madelaine Caritas Longman is the author of The Danger Model (2019, McGill-Queen's University Press), which received the 2020 Quebec Writers' Federation Concordia University First Book Prize and was longlisted for the Fred Cogswell Award for Excellence in Poetry. Her writing has been nominated for a Pushcart Prize (2021), shortlisted by Alexander Chee for the PRISM international's Creative Nonfiction Prize (2020), featured in installations at the EK Volland Art Gallery (2020) and Never Apart Gallery (2021), and published in journals including Room, PRISM, Grain, Vallum, and CV2. She lives in Tio'tià:ke (Montreal).