Interview by Rob Bittner
Here is the second of four interviews and story excerpts as part of our Youth Spotlight project. For details on this series, see our original post.
"How I Didn't Go to Mexico" by James Cawkwell is a narrative about coming out as queer and trans, and the consequences that follow. This creative nonfiction piece is a testament to resilience and strength amidst family drama and the uncomfortable tensions that exist between trans and queer youth and relatives who just don't seem to know what to do, even though acceptance should be the most obvious response.
James Cawkwell is very busy; a student at the University of Alberta, James is not only working through many competing assignments and exams, but is also a writer, working through many ideas to produce cathartic work that helps in the processing of many life events. These experiences certainly show up in James's work, and the cathartic elements are palpable within "How I Didn't Go to Mexico." But I don't want to give too much away, so here we go first, with an interview:
Tell me a bit about yourself and how you came to start writing?
I grew up in Calgary, and now I go to the University of Alberta, where I'm currently in my second year. I've loved writing since I discovered what stories were. I lied a lot as a kid. Part of this was definitely because I was a queer kid in a monstrously conservative area who loved reading, but I was also always in and out of the hospital. There's a lot of waiting when you are going to doctors all the time, and a pretty natural extension of reading is thinking about stories, and it's not a far jump to writing down your own. Especially for me, because I was already telling tall tales.
What inspired you to write about your own experiences through creative nonfiction?
I think it's incredibly cathartic to write about challenging experiences. Even bigger than that, it's so amazing to control the words, the framing, and ultimately, to shape your experiences into a narrative that makes sense. Especially when you're a young person with big things out of your control.
What have you been working on since this piece?
I've written a piece that was published in Glass Buffalo, which is decidedly more fiction. I've really gotten into writing things with a little more of a sci-fi angle. I'm also playing with time, flash fiction, and my very large fear of climate change.
Have you ever come across a book that made you rethink how you approach writing?
When I was in high school, my English teacher said I should read Middlemarch. I was really amazed by how that book handles time, and makes it an active agent in the stories, and is arguably the biggest driving force. I think as a young writer it's hard to wrap your head around how big time is and how you can use that.
What motivates you to write?
I've always wanted to tell stories, and now that I've been given a chance to share some, I just want to chase that as long as I'm able. Also, spite.
What is the first book that made you cry?
The Tale of Despereaux was a book I read and reread all the time. It changed the way I thought about stories. It was so amazing. I was so enamored with how complex it was plot-wise, and how nuanced it was emotion-wise. The description of a heart that was broken and healed crooked had me crying from a young age and every time I've read it since.
Excerpt from "How I Didn't Go to Mexico" (creative nonfiction)

I turn 18. I come out. It doesn't go well.
Though she wouldn't help me pay for university, even with thousands tucked away for that express purpose, my mother pays for my ticket to come on our "family vacation" to Mexico. Family: my aunt and cousins and grandmother, my dad, little sister, and her. All people who know my name is James, know I am a man, and with the exception of my sister, won't acknowledge it. I haven't seen nor talked to my mother in three months.
I fly from Edmonton to Calgary, and then stand at the gate to get on the flight to Puerto Vallarta. I read over the most recent contact I have had with my mother, an email, her request that I don't see her nor bind my "damaged breast tissue." I hold a passport with the wrong name and gender marker. My flight runs late, so I have mere minutes to make my connection. I take the thirteen-minute walk from domestic to international gates in eight. But I pause outside the gate. It's still five minutes until boarding. I look at the families, the little kids napping on their suitcases before we can get on our midnight flight. I'm the only one alone. I text my girlfriend, back home for Christmas already; she has a car, she has a family who wants her.
If I don't get on the plane, will you come pick me up? I ask.
It's close enough of a delay that I could say I missed the flight? I ask.
I miss you. I say.
I put my phone on vibrate, tuck it in my pocket, and try not to cry. I get a text from my mother.
Can't wait to see you! she's sent. Like an idiot, I get on the plane.
I arrive in Mexico at 6:30 in the morning. My mother, taking up the mantel a final time, booked me a shuttle from the airport. I text my girlfriend.
I got on the shuttle, and she says she'll meet me, so if I go missing, that's where to start the police looking. There's an hour till sunrise, so she can hide my body.
I'm joking. Mostly.
I arrive at the hotel. The sun hasn't risen, but there's some light. I'm the last person to be dropped off. The other families joked with the driver, two teenagers shared a set of headphones, a seven-year-old napped tucked beside his mother. But now it's just me. I'm ambiguous enough, gender-wise, and that makes me unapproachable. So we sit in silence. He drops me off. My mother is standing on the steps. She hugs me. She hasn't hugged me in a year. I look at her. She's aged. Or perhaps it's the floral skirt and hot-pink tank top that makes her body seem so frail. Her hair seems to have so much less to it. Her skin looks so thin. She offers to take my bag, but I don't let her.
She tells me how nice the hotel is. The pool is freezing, the bar is fun, the restaurants are really good. "We'll have to get grandma in the ocean," she says. It's a little after seven.
She offers to take me for breakfast once we arrive in the hotel room I'll share officially with my dad, and unofficially with my little sister.
"I didn't sleep well," I say. "I'd like to rest for a bit." Her face freezes in its smile. I've been too distant. Too polite.
It's December 22nd. My mother flies back alone to Calgary on Christmas Day in the afternoon. I will do the same on the 27th.
I don't exchange words with my mother until she doesn't hug me when she gets in the taxi to go back. We see each other three times, by accident. We get separate meals. She avoids the beach while I'm there, and in the afternoons, when she starts texting my dad to let him know she's getting ready to come down, my sister and I say the sun is getting to us and we're going inside. We sit in my room, door locked, on the balcony, reading and drinking mocktails.
One morning, my aunt joined my sister and I on our journey to drink a pot of coffee each and live off tacos.
"So," my aunt says, addressing me as the wrong name, once my sister goes to get some more food. "You've had a big year, with the whole transgendered thing." Twenty minutes of the best explanations, clearest stories, and most compassion I can muster, she says, "But you still have a woman's body." I go back to bed.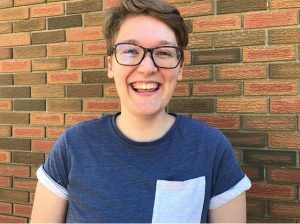 James Cawkwell is a queer and trans icon and author, and is currently pursuing English and Psychology at the University of Alberta. His other work can be found in Glass Buffalo, with upcoming publications through Loft on Eighth. He has major interests in queer narratives, science fiction, and lucky charms.