How about at a licensed restaurant on Commercial Drive, Vancouver, where you can pay $10 and not only get a digital subscription to Plenitude, but also hear some of Vancouver's favourite queer writers read from their latest — or upcoming — books?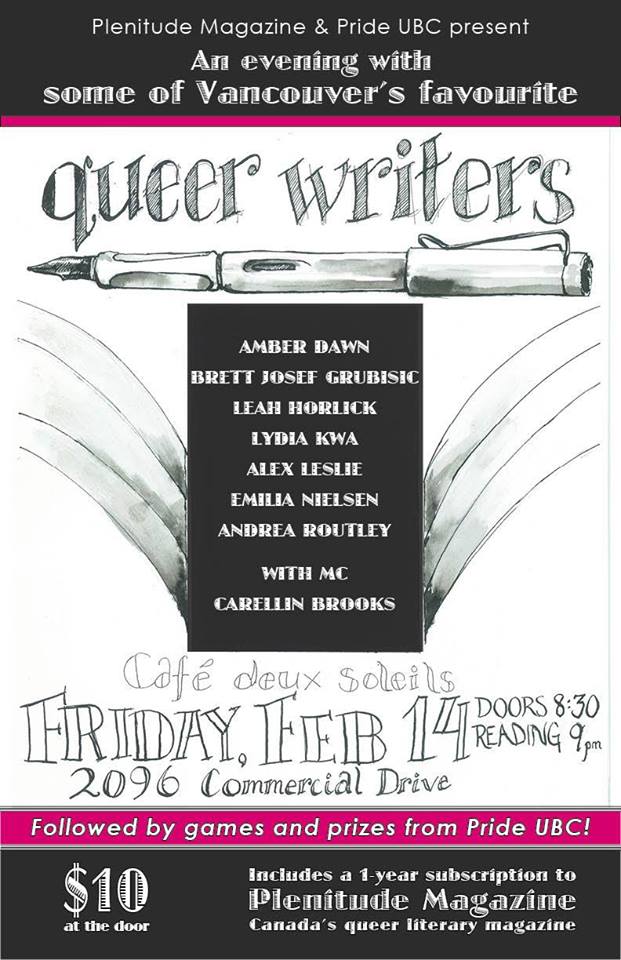 If you're thinking, "Digital? I want the new print edition!" Make it $18 and you will get print + digital, and a great night out.
The readers for the night were invited because they have a few things in common:
1. They have all contributed new work to an issue of Plenitude Magazine.
2. They all have relatively new or upcoming books out (because books are meant to be read. Purchased from your local indie bookstore and then read.)
3. They are all in Vancouver at that time.
4. They are awesome.
Hope to see you there!
Friday, February 14th
Doors 8:30 pm | Starts 9 pm
Cafe Deux Soleils
2096 Commerical Drive
$10 at the door — includes digital subscription
$18 at the door — includes print + digital subscription