Interview by L'Amour Lisik, associate prose editor
In this interview with Plenitude prose editor L'Amour Lisik, Shani Mootoo talks about her participation in Room's Growing Room Literary & Arts Festival (taking place March 11 to 15 in Vancouver) as well as her own writing and projects. Shani Mootoo is a novelist, poet and visual artist. A longtime Vancouver resident, she currently lives in Prince Edward County, Ontario. (Photo credit: Ramesh Pooran)
You'll be part of three different panels at Room's upcoming Growing Room festival: Louder Now: Voice in Writing, Fear in Fiction, and Not Your Sidekick: Queer Characters. Which of the festival's many panels/readings/workshops are you most excited about? Which do you think you could have learned the most from as an emerging writer?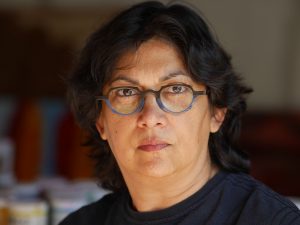 I would like to attend Luminaries: The Way Forward on Sunday, March 15. Gwen Benaway will be part of that, and I think she is a truly wonderful poet. I'd like to hear her speak and read, and the others as well. At the same time there is a panel called The World is on Fire: Writing in the Climate Crisis. I very much want to hear what writers are thinking about this. I'll have to play this by ear.
When I first began writing, I was hungry to hear any writer speak—about craft, about life, about literature, culture, anything. And I was also interested to see how they moved, what they wore, what they were like in repose. I was just hungry. In many ways I still am this way, and so any of the panels would have been a gift to me then.
The Not Your Sidekick: Queer Characters panel description states that "[q]ueer identities aren't plot devices for straight folks' character development. Queer folks are protagonists of their own individual stories, and they circumnavigate queer narrative and tone." With queer representation growing in all forms of media, which books, old and new, do you turn to when you're looking for an accurate and authentic portrayal of queer characters?
One of the first books with a queer protagonist I read was Leslie Feinberg's Stone Butch Blues. I can't say I've read anything that has impacted me in the same way, save for one recent book of poetry. If I may speak of Gwen Benaway again, I must say her collection of poems, Holy Wild, had me spellbound—her very contemporary handling of the craft, her honesty, kindness, and willingness.
Themes of identity and queerness and belonging surface in your writing. Could you tell me more about what these themes mean to you, and how your interpretation or execution of these themes has changed, if at all, throughout your writing career?
I don't write about my life, but my experience of life certainly influences how I imagine characters act and react. As a person who for a long time existed on the edges of the cultural world here in Canada, identity issues were bound to play a part in my art and writing. But I had made the decision from the start not to position myself at the edge, but to imagine that I was at the centre and to write from there, asking no permissions in the story. The act of writing in that way was, if you will, a kind of pleading—here I am, just like you, let me tell my story. But the story between the covers of the book was itself clean. It was my political act. I did it again and again, and if anything has changed, it is that it is now ingrained in my practice. It is no longer a conscious political act. Perhaps it is a habit, or the habit of insistence on being where I say I am—in the centre. I recognize that this may be purely subjective. Let's argue that it's an act. But it is my survival act. This positioning of my characters and their stories has, I now realize, come to be assumed of how I will write.
You're a visual artist as well as a writer. Does painting, videography, and photography inform your writing and vice versa? If so, in what ways?
It's the same brain, full of exactly the same material and desires, filtering the world into different media. I love the physicality of painting, of leaning the body into a painting. I love the shifting of the camera, up, down, sideways, to let me see in a new way something that was at first in an obvious conventional framing. The camera's isolating nature, the way different lenses treat the same subject—it really becomes another eye, way of seeing and interpreting and understanding. And writing, one wrong word—but instead of and, or so, or yet, and the colour of what you're trying to say has changed. None of them can do what the other can, yet they are all possible vehicles for facets of the same subject. I can't stay at one thing for long, but I must be doing something all the time, so I move from one medium to the next, and miraculously work is produced.
Congratulations on your upcoming novel, Polar Vortex, available March 3 from Book*hug Press. What's next for you?
I am revising a book of poetry that is to be released next year and playing with a photography project that borders on the idea of memoir, but through the present, rather than the past.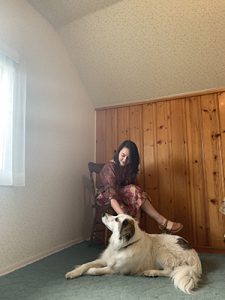 L'Amour Lisik is an artist, writer, and QPOC who lives on the unceded traditional territories of the Lekwungen and W̱SÁNEĆ Peoples. She holds a BFA in Writing from the University of Victoria, where she focused on poetry and creative nonfiction. She works as managing editor for The Malahat Review.