"Arleen Paré's Leaving Now is a deeply thoughtful, courageous work that transgresses boundaries, challenging the lines between poetry and prose, memoir and fiction, realism and fantasy, the acceptable and the taboo.
"Set in Montreal and Vancouver in the 1970/80s, it's about a mother who faces an excruciating choice. Should she stay in an unhappy marriage for the sake of her two young sons, or leave to be with the woman she loves? Back in the day, a few short decades ago, the choices were starker. To be a lesbian and a mother was close to impossible. There were no supports either in mainstream society or in the lesbian community for a woman who wanted to straddle both worlds. With searing honesty, the narrator exposes her guilt, grief and longings, her exuberant breaking out into freedom along with her aching love for her children.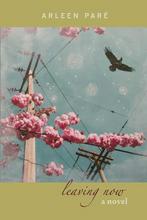 "Told in lyrical, but direct and compelling language, the story keeps the reader on edge. Through an artful blend of prose fragments, poetry and fairy tale, the narrative seems structureless, yet it holds together and becomes a page turner as we travel deeper into the heart of the dilemma. Paré packs many layers of complexity into this slim 162-page book. It's well worth a read."
Gabriella Goliger's novel Girl Unwrapped, won the 2011 City of Ottawa Literary Award for Fiction. Goliger's first book, Song of Ascent, won the 2001 Upper Canada Writer's Craft Award. She was co-winner of the 1997 Journey Prize for short fiction, was a finalist for this prize in 1995 and won the Prism International award in 1993. She is currently working on a new novel.