Meet one of Plenitude's Advisory Editorial Board members, Arleen Paré. Her latest novel, Leaving Now, is from Caitlin Press:
In Leaving Now, Arleen Paré, winner of the 2008 Victoria Book Prize, weaves fable, prose and poetics to create a rich mosaic of conflicted motherhood. Set in the volatile 1970s and '80s, when social norms and expectations were changing rapidly, Leaving Now is the emotionally candid story of a mother's anguish as she leaves her husband to love a woman. In this second book, Paré masterfully blends aspects of her personal journey with her own version of a well-loved fairy tale. Gudru, the five-hundred-year-old mother of Hansel and Gretel, appears hazily in the narrator's kitchen— presumed dead, all but written out of her own tale, but very much alive. Gudrun spins a yarn of love, loss and leaving, offering comfort and wisdom to the conflicted young mother.
Andrea Routley: Leaving Now is called a "novel," but how autobiographical is this?
Arleen Paré: Leaving Now is fictional, but some elements are taken from my life.  For the most part, the trajectory of familial dissolution is autobiographical.  The settings, the arrangement of the appliances in the kitchen, the shrubbery in the front yard, the sliding door, the dresser in the bedroom, all these are autobiographical. And although the characters are taken from life, they are only somewhat autobiographical. Not all the descriptions are true to life. However, many of the narrator's emotional states are autobiographical. I believe this is why the novel feels autobiographical. It reads like real life, but of course, it isn't.
AR: What made you decide to fictionalise this story?
AP: Several considerations tipped the balance toward fictionalization. Once tipped, the story slid fast into its novel-ish form. Leaving Now is fiction in the broadest sense of the word. Clearly, because so much of the action occurs in the far past, often over thirty years earlier, it would be impossible, for instance, to recall dialogue from that time. By abandoning the memoir genre, by fictionalizing the story, I make no pretense about remembering who said what when to whom. That's one reason. I did not want to be constrained by accuracy. I wanted the freedom to invent, to embellish the narrative in order to clarify and to deepen the meaning and drama of the story. So I invented Gudrun, a five hundred year old fairytale mother, who could not be more obviously fictional. Also, I very much wanted to protect the people who inspired the characters, to create the action at a remove from real life.
AR: You mentioned you started writing this years ago, but you have published since that time. Was this one just set aside for a while? Why?
AP:  I started writing Leaving Now a decade before Caitlin Press published it this spring. But I had started to write Paper Trail (NeWest Press, 2007) the year before I started to write Leaving Now. So Paper Trail had primacy. I was working at the time and writing in a very part time way. So it took a while. But because Paper Trail is about my experience working in bureaucracy, I needed to take advantage of my direct, day-to-day, on-the-job observations and experiences as I wrote. It wasn't until I finished Paper Trail that I could focus on Leaving Now. By then I had retired, moved to Victoria, and entered the Fine Arts Writing Program at the University of Victoria, where I focused on my poetry. So, Leaving Now just took a little longer. In hindsight, I think this was useful; I think it's a better book for its long, maturing gestation.
 AR: Your book is a mixture of prose and poetry. How does writing a book like this compare to working on collection of poems?
AP:  Because in a mixed genre novel like Leaving Now, the theme is so narrowly defined, so demanding of a dramatic arc, it is both a more straightforward and a more demanding experience. The topic is already defined, the arc is already established, cohesion already exists. So, I don't need to find the links; whereas, in an un-themed collection, I must discover how one poem fits with another. In a novel or even in a themed poetry collection, I don't need to impose a trajectory because it is inherent in the work. In an un-themed poetry collection, the poems can be more spontaneous; I can write what calls me at the moment and place it more flexibly because I am not constrained by theme. Nevertheless, in both mixed-genre and a collection of poems, the arrangement of the writing, the pieces is crucial – in both styles, the arrangement is often the most subtle, the trickiest part
AR: How did you decide on a publisher for this book?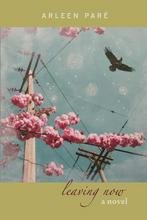 AP: Caitlin Press is an excellent small press associated with Harbour Publishing. In 2010, Caitlin Press had published a couple of my poems in the wonderful anthology called Walk Myself Home, which you edited, which is dedicated to ending violence against women. Caitlin Press had the kind of values, good progressive values, that I thought would make it an excellent publisher for Leaving Now. I'm very happy I chose to publish with them; in important ways, they have been very supportive.
AR: Can you tell us about your next book?
AP: My next book is a themed collection of poetry entitled Lake of Two Mountains, which I wrote last year for my MFA thesis. I was so lucky to have Lorna Crozier as my MFA supervisor; she has been very supportive of the Lake manuscript. Essentially it's a book of praise about the long, beautiful lake west of Montreal, called Lake of Two Mountains, which I know intimately from my childhood. Currently, the manuscript awaits the final selection process at Brick Books. I have my fingers crossed.
You can purchase Leaving Now online from Harbour Publishing, or at your local bookstore.