Sara Patterson
You tell me to wash.
We fuck the bathroom raw.
Elizabeth Bathory, I bathe for you.
If I deep clean my face with uterine lining
will I be young enough? Blonde enough?
I drink Diet Coke. Like horse piss,
it removes blood stains.
Mary Tudor, that rust haired
cancer ridden monarch.
Say her name seven times into a mirror.
Or don't.
When autopsied, they find her
made of the same materials as us mortals.
Cold brings you begging for us to do it.
Like the first night,
the night of ass fuckery.
Make me George Plantagenet,
a glass of madeira m'dear, then maybe.
I'm occupied with inertia
and Mary's drowning.
Her virus clings to doorknobs.
"If you were to end up like her,
I'd be a better man than Philip."
Sweet, really.
Your hand, poppy blooming,
scraping my decaying back
against blue walls,
covers us with lemon and ants.
"I could fuck any girl I want," I say.
You mirror the Bloody Lady's smile,
"But you won't."
Red paint takes longest to dry.
Elizabeth cannot be found. They dug her up
and dragged her through the streets.
I feel a reasonable regret for her death.
*[Line 18 quotes from "Madeira M'Dear" by Flanders and Swan]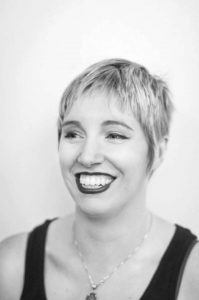 Sara Patterson is a Toronto-based writer. Her work has appeared (or is forthcoming) in Electric Literature, Occulum, Minola Review, and Lost in Thought. She is co-founder of The Grimoire, a zine dedicated to uplifting the voices of marginalized writers.