Mónica Gomery
Baby, I went to seminary for theology.
They taught me every Thou is a funnel for the big bright You.
They taught me God's erotics would come to me in dreams.
Put your queer shoulder to the wheel they said and push
your palm into the centre of the earth, love dissolves us
into people without timepieces or apology.
Sometimes I speak to our unborn child.
She will not be conceived biblically
she will however be named Selah!
and her many parents will be fluent in the lute.
Baby, that time Danez Smith came to Chicago they said Hosana
and it slammed at my heart like a great gust of God's wind.
I realized this is the most burning
and startlingly beautiful time to be alive.
I asked the baby and she said — gender, rhizomes,
sieve, sex, shoulder blades and apa, her mouth says salt,
her hands like starfish gripping for ghosts.
We took a paintbrush and put these words up
on the doorframe above her crib:
I have a parent whose parental name is spoken as my Hungarian great grandfather's
parental name, their breasts will be my body's first several hundred cups of water.
Our fathers and their father's father's father's father's fathers could not
imagine us but at least two of them were queer, glowed queerly in the dark.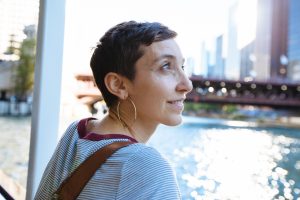 Mónica Gomery is a lover of questions, community, language and song. She is the author of Here is the Night and the Night on the Road (Cooper Dillon Books, 2018) and the chapbook Of Darkness and Tumbling (YesYes Books, 2017). Mónica became a rabbi in 2017 and currently builds queer Jewish community as the Associate Director of SVARA: A Traditionally Radical Yeshiva.