by Derek Bedry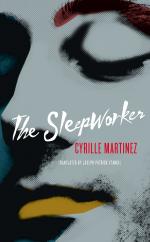 In Cyrille Martinez's "surreal parable" The Sleepworker, a strange fictionalized telling of Andy Warhol and John Giorgio's creation of the film Sleep, the narrator seems to float detached above the action, an alien observer.
This foreigner watches the neighbourhoods of "New York New York," a city that is as much a fictional idea as it is brick and mortar, grow from ghettos to artsy boomtowns to gentrified, bourgeois hubs that only the most commercially successful members of the creative class can afford.
The couples who will become the parents of Andy and of John come from "godforsaken places in the middle of nowhere" to find themselves homes in New York New York, their arrival heralded (along with other immigrants) by a tiresome, lavish public ceremony inducting them as citizens, complete with floats, gambolling street performers, music, and ceaseless waving.
Eventually, the two couples have their respective children, who, it is confirmed by a two-sentence paragraph, grow up to complete high school and get jobs. Andy begins rendering consumer products for an advertising agency but shortly realizes he feels more like an artist than a "visual communicator." He fabricates odd, apparently functional everyday items that are in fact missing elements vital to their proper function—a camera with a working viewfinder, zoom, and casing that simply has no slot for film; a car with no engine or gas tank; a gun which will fire either as expected or, randomly, back at the shooter; a washing machine that makes clothes dirty.
John gets a job on Wall Street and fantasizes all day long about hot male co-workers until he is fired for sexual harassment and decides he is a poet, without ever really producing any poetry.
The narrative diverges for a while into a tale of four bohemian roommates who end up in a studio together, hosting and attending art parties which turn into drug-fuelled orgies. At one of these hazy, blurry extravaganzas, Andy enters the picture and takes up with this crew.
But he soon meets John, and they conduct an apparently intercourse-free, euphemism-laden romantic relationship amid Andy's flourishing artistic success.
That discomfort around sex feels justified by Warhol's supposed real-life virginity. In Sleepworker, people do not masturbate—they take "the problem equipment in hand," and we know they've had an orgasm when they tell themselves "Nice work, well done." Another time, the narrator clinically explains the various purposes of, and possible intentions behind, the act of "ass-fucking." This bizarre, robotic approach is consistent with the gossip about Warhol's private life. The book acknowledges, "Andy hates to be touched," and rather than directly participating in any of the art-orgies he attends, he prefers to watch.
Despite this, Andy and John apparently do everything besides penetrate one another, and they are in love, a fact they do not hide in public.
As Warhol was a taciturn interviewee, known artistically for (to put it simplistically) holding up a mirror to popular/consumer culture, Martinez's narrator inhabits Warhol's observational otherness with crisp, plain language that serves a dual purpose in also making the whole performance of the New York New York art-partying lifestyle seem pretentious and silly. For example, the following passage: "We find John and Andy each in possession of a glass full of frothy liquid … Let's follow them." This sort of cinematic voyeurism characterizes The Sleepworker. Martinez's narrator can only occasionally see into the minds and motivations of the characters, and often, the insights are fairly superficial.
The story takes its time to get going, setting up the ephemeral character of New York New York itself and lingering on a cadre of party-going, unemployed, art-loving squatters who effervesce into inconsequence once they've set the scene for Andy's fabulous entrance. He drifts onto the stage fully formed and moves through the New York New York art scene, breaking factions up to his own satisfaction before moving on to other groups, absorbing the elements (and people) he likes, the rest be damned.
Irony and ennui are the main takeaways from The Sleepworker. It is an achievement in lively technical writing (translated from French by Joseph Patrick Stancil). As the press release says, it "reads like a Warhol film on fast-forward," which is the only way you'd really want to experience something so overlong and overrated as a Warhol art film.
Cyrille Martinez, The Sleepworker (Coach House Books, 2014). Paperback, 112 pp., $17.95.
Derek Bedry is a writer for magazines, radio, TV, and web whose work tends to focus on queer arts and issues. His other endeavours include fitness coaching and working toward a communications degree from SFU.