Matthew Walsh
Still feel the nerve in my neck
snap back at me, injury
from when I fell down the stairs
of the Embassy,
stairs now vibrant with exes orange
and aquarium light.
If I was floating in the galaxy
with fresh new stars
when they put me in the tube
shoot me to the moon
my brain will appear
as the dark side of the moon.
When you fall down
the stairs of the Embassy, break
some obsolete piece of your mother-
board you want to reclaim your body
you feel the moonlight trickle
over your life.
And yet my teeth feel looser
with no head
gear. A man named Corey got hit
in the head yesterday with his friend
getting kicked in the reality
with no head beer on.
I go where the Raptors go
to get bone tests done. I bare down
on my mirror-self I cannot
leave them here alone.
When I read poetry I feel
like a floating head. I want to
get into that shit we were doing.
I smashed my head so well
I feel colour. I tell doctors
I have to stay over night
yet my muscles are ready to go.
I have a tiny bone reabsorbing
in my body it is attached to my nerve.
I wish they would vacuum it out
I'm a regular
human being. I will lose like my father
first the eye tooth.
I like dive bars which are like black
holes yet with candle. The human
machine is incredibly strong,
maybe I need it—
a summer at home, painting
houses on ladders
which don't take me too far.
Diamond Dallas Page took all the cosmic zen
out of yoga. The first thing a cat
or an animal does is stretch
when they wake up, move every muscle
before they make their first move.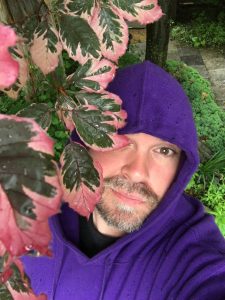 Matthew Walsh is a queer writer from Nova Scotia whose work has appeared in The Malahat Review, HOAX, The Matador Review, Pulp Literature, among others. His debut poetry book, These are not the potatoes of my youth, was released earlier this year with Goose Lane.