As part of the Victoria Arts Council's Poetry in Public project, Tharuna Abbu's poem, "Emergency Measures," has been published into five different languages! This poem first appeared in Plenitude in July 2020 as part of our Queer Isolation in a Pandemic series.
Here is the full excerpt from UNTIL magazine:
"The Victoria Arts Council presents the third iteration of our Poetry in Public project, an engagement with poems by local writers presented in various languages: the latest being Emergency Measures by Tharuna Abbu, originally published in Plenitude Magazine.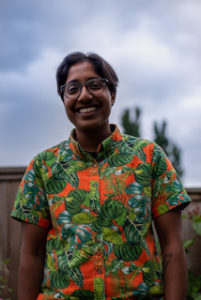 Tharuna Abbu is a poet, writer, and family doctor living on unceded Coast Salish territories. They are a student of The Writer's Studio Program from Simon Fraser University, and they have work forthcoming in the program's annual anthology. Their work has also been published in CV2 and Room Magazine.
Translators and interpreters working on Poetry in Public include: Mohammad Alkamel, Ana Saenz del Campo, Hostion Ho, Natali Leduc, Lemlem Ogbasilassie and Hagos Okubayes."
The translations appear in French, Spanish, Arabic, Chinese, and Tigrinya.
Click here to be taken to UNTIL magazine! Scroll to page 31 to read the introduction and translations.