Billeh Nickerson, Duct-Taped Roses (Book*hug Press, 2021), 96 pp., $20.00.
Billeh Nickerson's new poetry collection Duct-Taped Roses begins with the lines: "When we wrap our legs / around one another's / I'm not sure." This first poem, "Mermen," is situated just before the seven more official sections that comprise the collection. It acts as a hint, however, of what is to come, what themes are explored, and the nuance that keeps readers like me attuned to Nickerson's sometimes diaristic, often vulnerable, always incisive eye as he admits to his unsureness in love, mainly because of past sorrows that can seemingly fill an ocean. Not all doom and gloom, "Mermen" also encapsulates a sort of everyday magic that is found throughout this collection, where the possibility of a roll in the sack abound: "whose limbs / are whose — / whether we're growing // fish tails / or more / entangled."
A longtime fixture among queer CanLit circles, fans and followers of Nickerson will remember some of the strongest poems in this collection from early appearances in various journals like CV2, The Fiddlehead, and The Malahat Review, so it is a gift to have them collected here in one volume. Ultimately, Nickerson's direct use of language, in sometimes surprising combinations, offer insights into contemporary queer life in Canada. 
For example, the section Rhymes with Boyfriend starts with the devastating, "Six Years On," about recounting the lost promise in a friend's unexpected death:
I've often discussed the loss
of mentor figures for gay men,
how those who would have taught us
what it meant to be fortysomething
never made it that far,
but I've rarely spoken about the void
felt by a middle-aged man who loses
his gay best friend
to an accident in a bathtub
Nickerson goes on to index memories of his time with the departed, signaling hilarious, humiliating, and humble moments that make up a friendship. Similarly, the section Skies is an elegy for the poet's late father, who was a pilot. Among moments of the magic of growing up looking at the sky to attempt spotting his dad's plane, he relays conversations about his father's proximity to AIDS during the early days of the pandemic through his gay male coworkers: "JeanEduardoPierreMarcTim rolls off his tongue with a natural flow, like one long mellifluous name…", and it is this precision through the pathos-laden anecdote that lets Nickerson's readers inside his world. Death appears throughout this collection—something that speaks more to where the poet is in his journey than anything else. In our forties we learn to say goodbye, and here Nickerson offers his own version, with memorials not only to his best friend or his father, but also to fellow poet Zaccheus Jackson, the former Nylon-turned-children's-showhost and thespian, Dennis Simpson, along with close friends and near-anonymous acquaintances. 
This is a solid collection by a writer in mid-career stride: it's got some poems that have appeared elsewhere, some new ones, a nice homage to his queer lineage, the personal nods we've come to expect with the unflinching honesty (even crassness) that makes Billeh Billeh.
Alongside the humorous takes on queer life, Nickerson offers his memoiresque cliffnotes in "Langley" (After Joe Brainard). I once read that Brainard's poem "I Remember" is among the most taught in elementary schools—presumably because of the unfettered, straight-forward reportage that nearly anyone who has lived a day can attempt on their own—so it is both surprising and not to find a seasoned poet like Nickerson offering his own take. However, the breadth of Brainard's recollections (everything from socioeconomics, popular culture, and sexual awakenings to food, classroom hijinx, and uninspired Christmas presents) far surpasses the offerings here in this homage written some fifty years later. The comparison isn't really fair, seeing as the original is around a hundred and thirty pages, and Nickerson's is a mere four and a half pages. What I appreciate about "Langley" is the situatedness derived from the title; here the poet is telling us about where he grew up and how. He's playing witness to his own life, but also the very real political implications that only come into focus after decades. With lines like, "I remember my school divided into house teams—Haida, Nootka, Salish, Bella Coola—though nobody ever taught us the names' true origins, so when I hear them I first think of my school," which is directly followed by, "I remember Jasvinder preferred to be called Vinder as he thought it sounded cool like Darth Vader. Every other Jasvinder I've met has preferred to go by Jas." we understand how the insidious colonial settler state embedded itself into all of our lives resulting in various levels of hardships. Nickerson is better at locating his queerness amidst his working class backdrop: "I remember being called a frog because I was in French immersion, a preppy because I wore dress shoes, and a faggot because that's what happened when pickup trucks with rolled-down windows drove past." Same, Billeh. Same.
Though I am partial to Nickerson's longer poems, he proves here that he is still the master of a striking image offered through a few quick lines. Nowhere is this as present as in the suite of poems titled "Occupational Therapy," where he describes with light and ease the various aspects of sexual encounters, such as "The Dart Player," where we are privy to the nuance: "He'd do this thing where his pinky / would jut out to the side / just before he shot."
The collection culminates with the section Curiosa, which feels like a bit of  scramble to include what some might consider the 'also-rans'—those poems that help make up a reading set, but aren't the real standouts from the evening. Part inside joke, part commentary from an astute smart alec, these final poems do have moments of clarity and make more sense when considered amidst the collection as a whole. I love "Hashtags," a short poem that positions our past knowledge of shared drug culture with the unrepentant redefinitions rampant in our new social media savvy existence. Through memories, asides, jokes, and even a curious found poem retelling the step by step instructions of "How to Clean a Gravestone," Nickerson reminds us of the queer power found in the anecdote.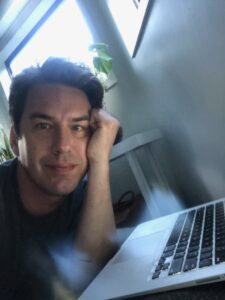 A writer, curator, and publisher, Kegan McFadden is also the Executive Director of the Victoria Arts Council, where he produces exhibitions and acts as managing editor for the digital publication, UNTIL. The current issue of UNTIL, Queer Island, has just been released and can be downloaded here.