Samantha Sternberg
Wafer paper and moonlight
spread across the swept table.
A fresh pen.
Start at the waist. Hands on hips.
The small-leaved lime tree
had the greatest girth in Łódź, 2017.
There must be enough to hold onto.
Eat, eat. Few of her words I remember.
Six years we shared.
Zeyde stayed late to make her pants.
Warmer for walking. Two buttons
on each hip. Pockets for carrying.
What symbols of love
did she seek, did she offer?
An attempt to heal
through the National Plan of Afforestation.
Their station now the soil of maples,
scrub pines. Atlantic edge, cold welcome.
How will we spell our names?
An absence in the middle
and no need to marry.
In the old textile factory,
a Nursery Web spider
sings as she works.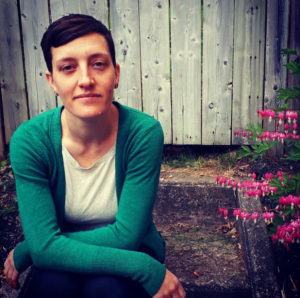 Samantha Sternberg is a poet and librarian living in K'jipuktuk (Halifax). Her writing has appeared in The Malahat Review, Prairie Fire, Room, and elsewhere. Her chapbook, Kinship and Light: the Wyeth Poems, was published in 2018.